Attention!
The product has been discontinued. Check other products incategory.
Description
Module LoPy in OEM version enable communication to Lora 868 MHz network, wi-fi network and Bluetooth BLE on Linux, with the support for Python developers. There is a system ESP32 with 4 MB RAM and 8 MB Flash memory. 24 lines GPIO, interfaces 2x UART, 2 SPI, I2C, I2S, microSD, and 8 channels of 12-bit converter enable the connection of any sensors and the creation of the Internet of Things (IoT).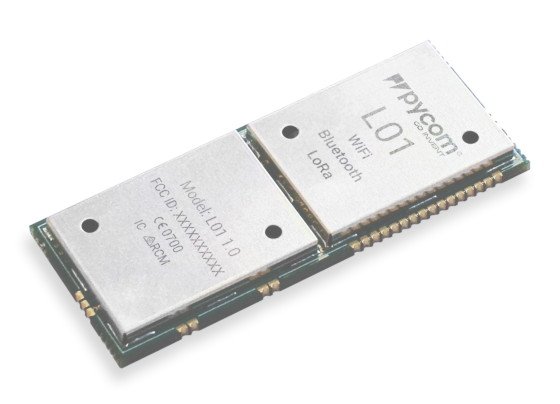 Key features
Working voltage: 3.3 V
Microcontroller ESP32

RAM: 4 MB
Flash memory: 8 MB

Built-in wi-fi module 802.11 b/g/n 16 MB/s
Built-in IP stack v6
Long-range LoRa module

Frequency:

868 MHz (Europe) power to +14 dBm
915 MHz (America, Australia and New Zealand) power to +20 dBm

Range:

The Node mode: up to 40 km
The Nano Gateway mode: up to 22 km (capacity up to 100 nodów)

Built-in Bluetooth BLE 4.2
Real-time clock RTC 32 kHz
Built-in DMA controller
Lines GPIO: 24
Network interfaces: 2 × UART, 2 SPI, I2C, I2S, SD Card
Built-in analog-to-digital converter, 8 channel with a resolution of 12 bits
Counters four 16-bit PWM outputs
Wi-fi security: SSL/ TLS, WPA
Dimensions: 40 x 16 x 2.7 mm
First run
To start working with the module you need to download Pymak environment from the manufacturer's website, connect and create your own program or use existing samples.
Differences bewteen L01 and LoPy
Module L01 is not supplied with the following elements:
Voltage regulator
Protection against reverse power connection
Antenna switch
Antenna SMD
Connector.FL
Reset button
LED
Pins
Several passive elements