Attention!
The product has been discontinued. Check other products in category.
Description
Alarm system operated via Wi-Ficontains adoor opening sensor,motion sensor,control panel, anddevice central. It helps protect home from burglary. Modular design allows expanding of the set by adding new sensors. The device is compatible with otherBroadlinkproducts and theE-Controlapp. This kit allows you to create your ownscenes and various variables.
Alarm set
The alarm set allows you to monitor the opening of doors and movement in the room. Information history is available at any time in a dedicated application. In addition, you can be receive regular notifications of any violation of the sensors. You can also program any action after receiving the signal from the sensors, for example, switching on the lights (using other control elements).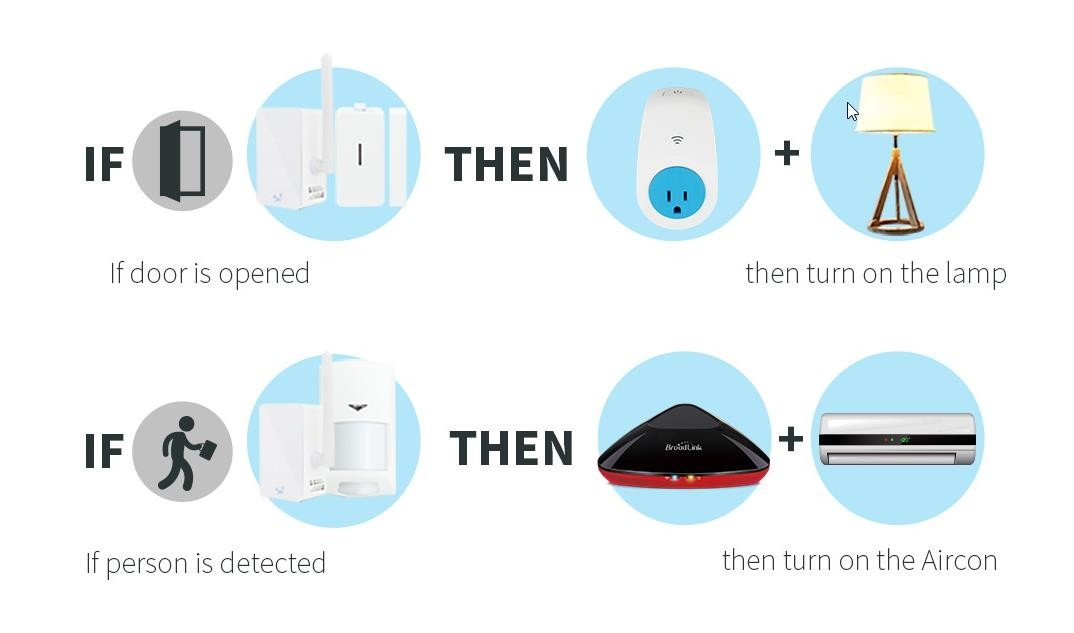 Remote control
The supplied remote control has 4 buttons
Full Arm - activates all sensors
Diarm - system disabled
Part-Arm - activates the selected sensors
SOS - SOS signal in case of emergency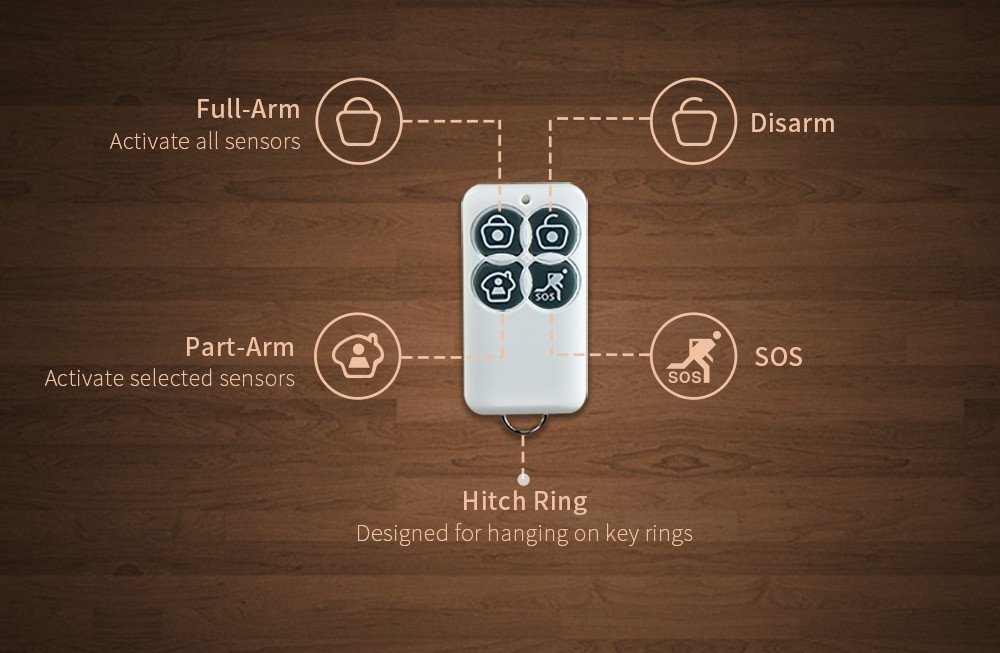 Specification
Hub - the main device

Power supply: 5V / 1A (included microUSB cable)
Wi-Fi: 2.4GHz 802.11 b/g/n
The RF frequency: 433.92MHz MHz
Signal strength: -110 dB
The maximum number of devices: 16
Dimensions: 100 x 100 x 28mm

Sensor for opening door/window

Power supply: 3xAAA battery(sold separately)
Power consumption

Standby mode: 9 µa
Operation mode: 15 mA

RF range: 30m
Frequency: 433.92MHz MHz
Automatic reports: synchronizes with the hub every 60 minutes
Dimensions: 50 x 77 x 19mm

Motion sensor

Power supply: 2xAA battery(sold separately)
Power consumption

Standby mode: 15 µa
Operation mode: 15 mA

RF range: 30m
Frequency: 433.92MHz MHz
Detection range: up to 12m
Effective angle: 90°
Installation height: from 2.2m to 2.7m
Dimensions: 110 x 62 x 47mm

Remote

Power supply: 1 xCR2032 battery(sold separately)
Power consumption

Standby mode: 15 µa
Operation mode: 15 mA

RF range: 30m
Frequency: 433.92MHz MHz
Dimensions: 58 x 31 x 10mm
Set includes
Hub - the main device
Motion sensor
Sensor for opening door / window
Remote control
MicroUSB cable
Mounting accessories