Attention!
The product has been discontinued. Check other products in category.
Description: Zamel LKM-01-40 - voltage indicator 230/400V
Voltage detection device in athree-phase network.Voltagedetectionis indicated by three multicolored LEDson thefront of the housing, separately for each phase. The ratedvoltagefor the LKM-01-40 is230 / 400 V. The power indicator is adapted for installation on theTH35 mountingrail.
The power supply indicator is adapted for operation on a three-phase TN network (with N-neutral cable).
Presentation of the power supply indicator LKM-01-40.
The voltage indicator is used mainly inhome automationsystems. The device has a durable,single-module housing. The LKM-01-40 has aprotectionclassIP20. It uses high qualityLEDs withincreased light emission.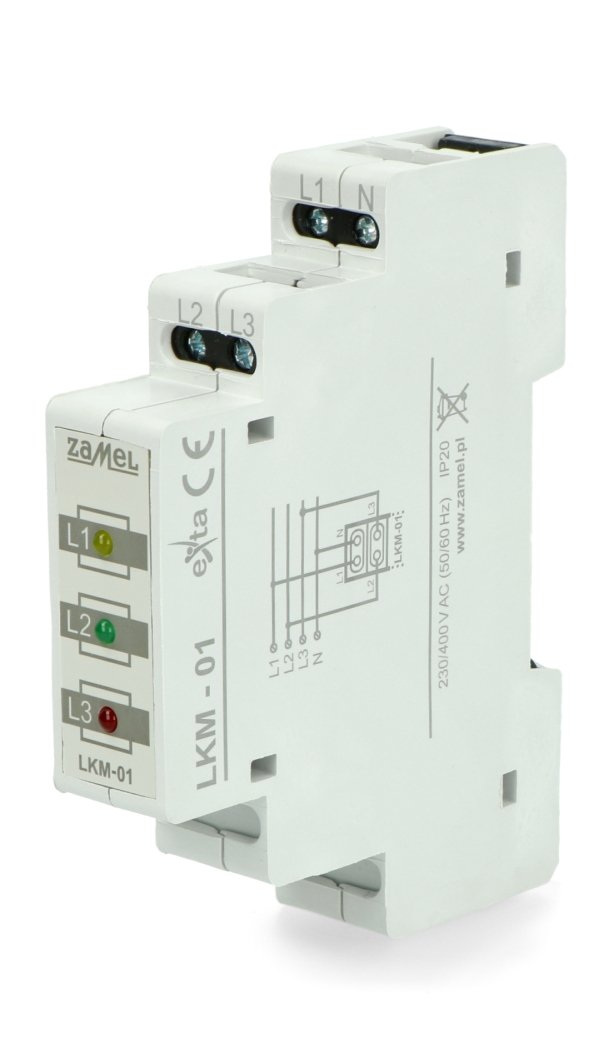 Power indicator LKM-01-40. Other products available in the offerfrom the category
Power detector specification LKM-01-40
Specification LKM-01-40
Power terminals
L1, L2, L3, N
Nominal supply voltage
230 / 400 V AC
Tolerance of supply voltage
from -15% to +10%
Rated frequency

50 / 60 Hz

Nominal current consumption
2.8 mA
Power indicator:
3 LEDs with increased light emission
Number of connection terminals
4
Operating temperature
-20 °C to 45 °C
Housing attachment
TH 35 rail
Degree of protection of the housing
IP20
Protective class
II
Surge protection category
II
Type of housing
single-module
Dimensions
90 x 17.5 x 66 mm
Mass
47 g
The indicator LKM-01-40 is compliant with PN-EN 62094-1 and PN-EN 61000-4-2, 3, 4, 5, 6, 11 standards.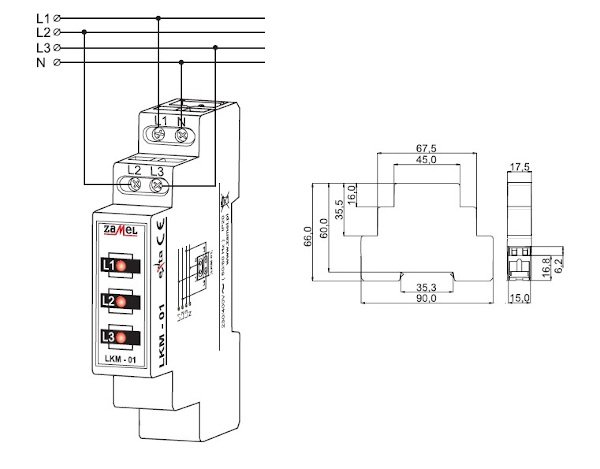 Wiring diagram and dimensions of the housing LKM-01-40.