Attention!
The sale of the product has been completed. Check the new version.
Description
Module with digital temperature sensor TMP102, equipped with I2C (TWI) communication interface. The outputs are popular goldpin connectors, allowing to connect the sensor to the main module (e.g. Raspberry Pi, STM32Discovery or Arduino ) using wires.
Product compatible with Arduino
The manufacturer provides a sample code with connection diagram for Arduino users .

Since the maximum voltage at which the system operates is 3.4 V, for operation withArduinonecessaryvoltage converter. WThe exception are modules working with 3.3V e.g. ArduinoPro Mini 328 - 3.3V/8MHz.
Specification .
Supply voltage: 1.4 V to 3.6 V
Measuring range: -40 °C to 125 °C
Accuracy: +/- 0.5 °C from -25 °C to 85 °C
Resolution: 12-bit ( 0.0625 °C)
Communication interface: I2C (TWI)
Two mounting holes
The kit does not include goldpin slats...can be purchased separately.
Exits
The system has 6 leads in the form of holes for self-soldering the2. 54 mm goldpinraster strip (not included in the set, to be purchased separately).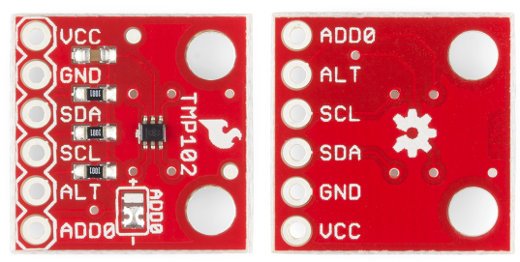 | Pin | Description |
| --- | --- |
| VCC | Supply voltage from 1.4 V to 3.6 V. |
| GND | The weight of the system. |
| SDA | I2C bus data line, pulled up with a 1 kΩ resistor to the supply voltage. |
| SCL | I2C bus clock line, pulled up with 1 kΩ resistor to supply voltage. |
| ALT | Bit to read the state of the comparator, pulled up with a resistor 1 kΩ to the supply voltage. Detailed description can be found in the documentation on page 7. |
| ADD0 | Bus address selection: high state: 1001001, low state: 1001000. |