Attention!
The product has been discontinued. Check other products in category.
Product description: RFID wall-mounted reader MW-R7G - 13.56MHz - grey
Wall-mountedRFIDcardand proximity transponderreaderoperating at13.56 MHz. Compatible with MIFARE Classis, MIFARE Plus, MIFARE Ultralight C, MIFARE DESFire, ICODE SLI, iClass. Supported communication interfaces are RS232, RS485, 1-Wire, WIEGAND and CAN 2.0B. The reader is equipped with three GPIO pins. The device has a built-in RGB LED, buzzer and touch button. Casing version in grey. Mounting pins are included.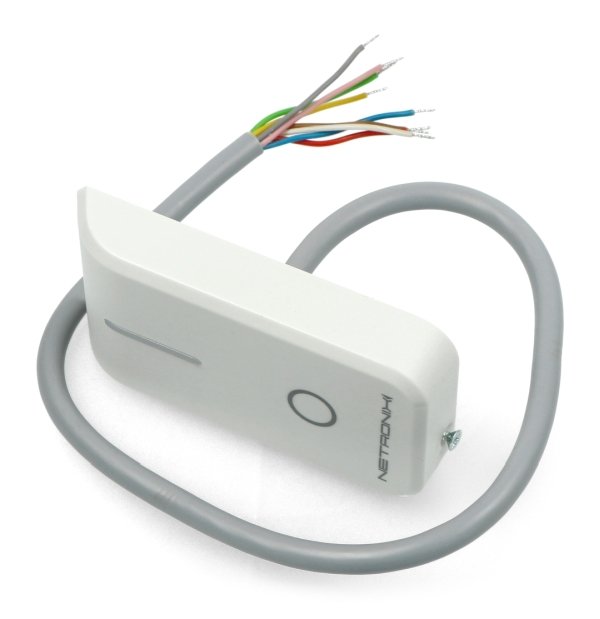 RFID reader MW-R7G - 13,56 MHz - grey.
Output description
The reader haseight leadsin the form of wires with removed insulation, placed on the back of the casing. Below is a description of individual connections.
Description of reader outputs MW-R7G
The colour of the cable
Name
Function
Red
VCC
Power supply
Blue

GND

Mass

White
Anticolliosis
Bringing readers working closely together
Brown
PinOUT

Any destination

Green
PinTERFACE1
Serial interface line: RS232_TX, RS485_B, CAN_H, WIEGAND0, 1WIRE
Yellow

PinTERFACE2

Serial interface line:

RS232_RX, RS485_A, CAN_L, WIEGAND1

Grey
PinIN0

Entry for any purpose

Pink
PinIN1

Entry for any purpose
RFID reader specification MW-R7
Supply voltage: 8 V to 15 V
Maximum supply current: 120 mA
Average power consumption: 25 mA
Rated RF frequency: 13.56 MHz
Supported standards: MIFARE Classis, MIFARE Plus, MIFARE Ultralight C, MIFARE DESFire, ICODE SLI, iClass
Supported communication interfaces: RS232, RS485, 1-Wire, WIEGAND and CAN 2.0B
Operation with Netronix and MODBUS-RTU protocol in RS232/RS485 interface mode
Number of GPIO pins: 3
Card and transponder reading distance: up to 8 cm
Leakage class: IP54
Front button type: capacitive
Built-in buzzer, antenna, RGB LED
Dimensions: 83 x 44 x 14 mm