Attention!
The product has been discontinued. Check other products in category.
Product description: Shelly Vintage A60 - Smart WiFi bulb - E27, 7W, 750lm.
Intelligent E27 bulb in vintage style. It communicates with a WiFi network,controlledby a dedicated Shelly Cloud application or voice commands withGoogleHome or Amazon Alexa. Shelly Vintage emits white, warm light with a temperature of 2700K and brightness of 750 lm, consumes 7 W.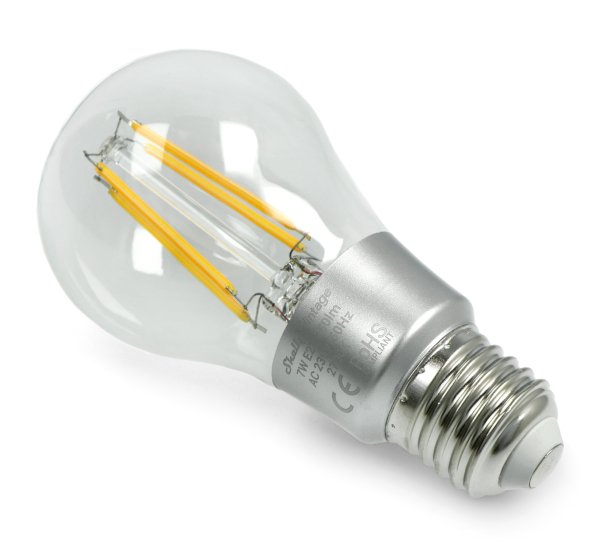 Shelly Vintage A60 intelligent light bulb.
The bulb can be controlled by a dedicated app forAndroidandiOSdevices, as well as voice commands using GoogleHomeandAmazonAlexa.It canalso be connected to various types of home automation systems, such as: MQTT, HomeSeer, OpenHAB,HomeAssistant, iBroker, REST, Hubitat, HOOBS, Symcon, Domoticz, nymea.
Main features of Shelly Vintage
Wireless communication - communicates with your home WiFi network, without an additional HUB.
Remote control - the bulbcan be controlled by a mobile application from anywhere in the world.
Wide compatibility - works with Android and iOS systems, as well as with Google Home and Amazon Alexa.
Wide range of power supply voltage- the bulb is powered from 110 V to 220 V AC.
Energy-saving- low power consumption - 7 W.
Schedule - you can set a schedule for each day of the week via Shelly Cloud application
Light dimming- The bulb has a dimming function that can be controlled from the application.
Shelly Vintage bulb specification
Supply voltage: 230 V AC ±10%, 50

Hz

Power consumption: 7 W
Thread: E27
Brightness: 750 LM
Colour temperature: 2700K
Type: LED
Glass: transparent
Leakage class: IP20
Operating temperature: -10°C to 40°C
Service life: 15000 h
Communication: WiFi 802.11 b/g/n 2.4 GHz
Communication range: up to 50 m outside, up to 30 m inside
Dimensions: 115 x 60 mm