Attention!
The product has been discontinued. Check other products in category.
Product Description: Sporty Smartwatch iWOWN P1c GPS with pulsometer - OnlineWorld
The intelligentiWOWN P1csportswatch, which has a 1.3"IPS 1.3"colour displayand high quality allows the watch tobe usedeven in strong sunlight. It communicates withBluetooth 4.2wireless technology and works with Android and iOS. It is equipped with a number ofsensors, including gyroscope, accelerometer, pulsometer, pedometer, sleep monitor. It has abuilt-in GPSand 17 sports modes. The watch is waterproof at IP68 level, so it remains operational when diving up to 20 m.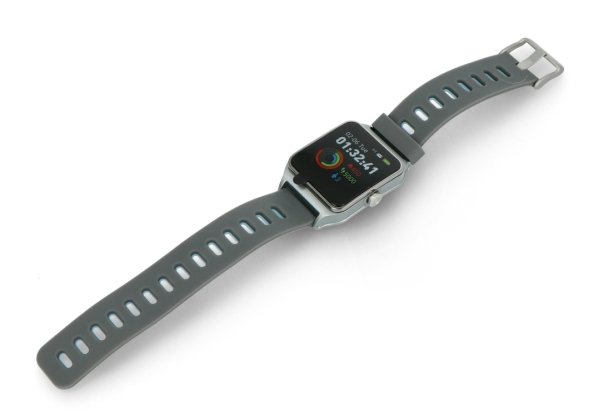 Smartwatch iWOWN P1c.
Ideal for athletes
The intelligent P1c watch has as many as 17 modes of physical activity, each of which presents, among other things, the amount of calories burned, distance to go, training time and the user's heart rate. Additionally, the precision of the intervals is ensured by the stopwatch and timer option.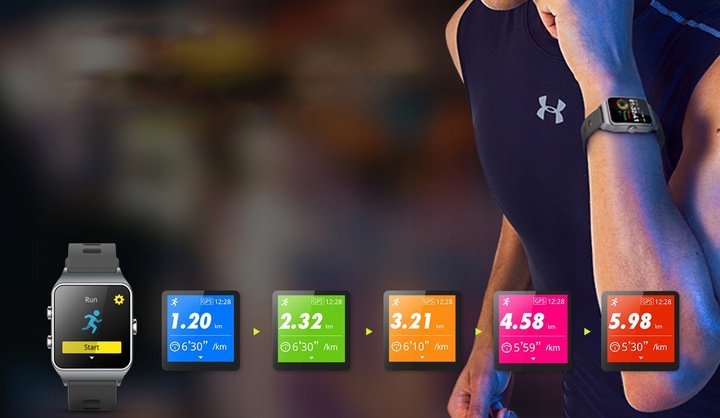 P1c sports watch.
The P1c smart watch has a built-in GPS, which is linked tosportsmodes. Starting the running mode also activates the GPS, which records the route travelled. After synchronization with the user's phone, the route can be analysed inthe application panel. It is ideal for people practicing sports. Running, long walks - with P1c you can track your achievements and save your routes.
Long working time
As for a sports watch, it has a very capacious 250 mAh lithium-ion battery. Dedicated charging plate and USB cable are included. With standard use, the manufacturer ensures continuity of work from 5 to 7 days. Working time may change during intensive use of GPS function.
Wide range of advanced functions in P1c model
Smartwatch has a built-in sensor that measures the pulse precisely and allows you to examine the overall body fatigue level. The heart rate is measured automatically, at fixed intervals (usually several minutes during the whole day). Using the application, the user has access to a list of measurements and can check at what point in the day the heart rate jump occurred. An active sleep monitor is a complementary function. The sensor detects the moment of falling asleep and shows the time spent in particular sleep phases.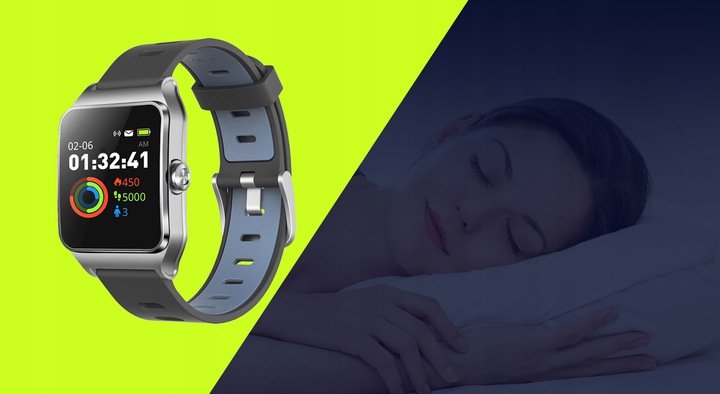 Smartwatch with the active sleep monitor.
The built-in sensor analyzes every user movement. It collects information about distance travelled, steps taken and calories burned. Additionally, thanks to the connection to the phone, it notifies about incoming calls and messages. Checking who is calling or writing is done via a smartphone - there is no need to search for a phone.
Specifications of the intelligent sports watch iWOWN P1c with pulsometer
Model: iWOWN P1c
Colour: grey
Display

the diagonal of the screen: 1,3"
colorful IPS
resolution: 240 x 240 px

Communication: Bluetooth 4.2
Sensors: gyroscope, accelerometer, pulsometer, pedometer
Compatible system: Android, iOS
Navigation: none
Connectors: none
GPS Locator: yes
Alarm: yes
Waterproofing: IP68
Pulsometer: dynamic
Application:iWownfit PRO
Power supply

battery: lithium-ionic
capacity: 250 mAh

Working time

standby: up to 7 days
GPS: up to 7 h

Envelope parameters

shape: rectangular
width: 37 mm
height: 49 mm
thickness: 13.7 mm

Weight: 40 g
Set contents
Smartwatch iWOWN P1c
USB cable
Loading pad