Attention!
The product has been discontinued. Check other products in category.
Description: Roadster VM-01 - mechanical model kit - veneer - 437 parts - Ugearsmodels 70052
Mechanical model roadsterVM-01from Ugearsmodels made of ecological material -veneer. The set of a high level of difficulty, consists of437 elementsobtained through an advanced technology of design and cut out by laser method. The 3D puzzle hasprecisely marked detailsmaintained in theretrostyle, thanks to which they give the model a realistic look. The construction of the model has been done in such a way that the user can understand the principle of operation of the eight-cylinder engine and watch the movement of the pistons. The Roadster does not have any electronic components, the elements are set in motion by arubberband. The package contains plywood sheets from which you can simply press out thefinished partsand connect them together following the illustrated instructions included in the kit. Noglueor additionalassemblyparts are required to assemble the model. Assembly takesbetween 8 and 10 hours.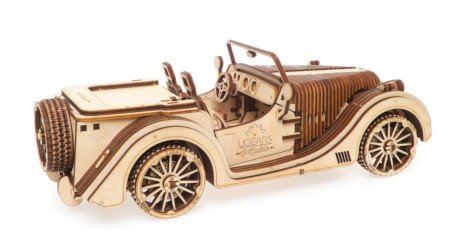 The combination of advanced design technology and production from ecological materials makes the model a perfect gift idea.
Technical specification of the kit
Model: VM-01 roadster
Type: mechanical model
Toy model kit for self-assembly without glue
Suitable for children over 14 years old.
Gearbox with three modes: forward / reverse / idle
Change of driving direction with the help of the steering wheel
Instruction language: UKR, ENG, DEU, FRA, POL, SPA, ITA, RUS, JAP, KOR, CHI
Construction material: veneer
Number of elements: 437 pieces.
Assembly time: 8 to 10 hours
Model dimensions: 305 x 130 x 100 mm
In our offer you will also find other proposals of mechanical models fromUgearsmodels.