Attention!
The product has been discontinued. Check other products in category.
Product description: 5V/0.3A wireless power module
The module uses an electromagnetic field to transfer energy between two objects within a range of 10 mm. It provides5 Vand300 mA. The efficiency of the module reaches 90%.
Connection
The set consists of two inductive elements:
a larger transmitter with a diameter of 33 mm - a 5 V supply voltage must be connected to it,
smaller receiver with a diameter of 21 mm - to which the energy receiver should be connected (in the figure it is an LED with a resistor).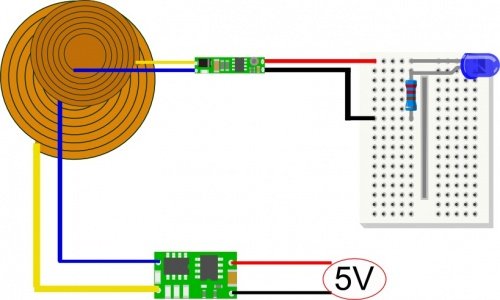 The diagram of connecting the wireless power supply system.
Specification
XKT-412
Power supply voltage: 5 V
Output voltage: 5 V
Output current: 300 mA (max. 600 mA)
Transmitter dimensions:

External diameter: 33 mm
Internal diameter: 5 mm
Thickness: 1 mm

Receiver dimensions:

External diameter: 21 mm
Internal diameter: 10 mm
Thickness: 0.5 mm

Operating distance: 2 mm to 10 mm
SUPLA- Polish open source project based on ESP8266