Attention!
The product has been discontinued. Check others products incategory.
Description of Bluetooth 2.0 Module V3 For Arduino
The Bluetooth module is made in the design of double board which prevents the electrostatic damages. It has bright LEDs for information about transmission status. It is powered with the voltage from 3.3 V to 8 V. Built-in switch LED Off turns off the LED to save power, and the switch AT Mode starts the AT commands. The device works with microcontrollers via serial UART interface includingArduino.
The module is compatible with most of the Bluetooth 2.0 devices available on the market (i.a. laptops, smartphones).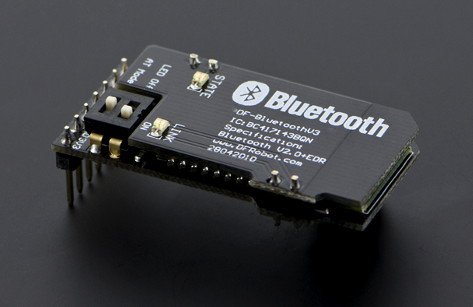 The product is compatible with Arduino
Sample code and detailed information can be found inthe user guide.

Specification: Bluetooth 2.0 Module V3 For Arduino
Chip: CSR BC417143
Protocol: Bluetooth v2.0 + EDR
Support for USB 1.1 / 2.0 standard
Operating frequency: 2.4 GHz to 2.48 GHz
Modulation: GFSK
Transmition power: up to 4dBm, class 2
Transmission distance: up to 30 m
Sensitivity: below -84 dBm
Data transfer rate: up to 2.1 MB/sec
Protection and security: autentification and encryption
Data of the serial transmission:

Baud rate: 4800 to 1382400 (by default - 9600)
Parity: no
Data bits: 8
Stop bit: 1

Supply voltage: 3.5 V to 8 V DC or 3.3 V DC / 50 mA
Operating temperature: -20 °C to 55 °C
Board sizes: 40 x 20 x 13 mm