Description
Yuneec Q500-G is an innovative quadrocopter model with GoPro camera mounting capability. Ideal for beginners and more experienced pilots. It is perfect for both commercial and recreational use. The included control unit enables live viewing from the drone camera - no additional accessories are needed.
Apart from the gimbal mounted to the quadrocpter, there is also an additionalmanualgimbal included.
The drone is ready to fly right after taking it out of the box. The gimbal can also be mounted on the manual stabilizer which is included in the set. With its help you can take amazing shots from the ground and air.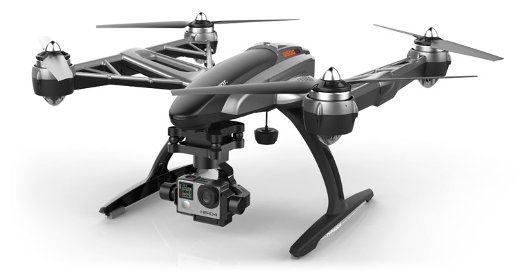 Dron is equipped with gimbal with the possibility of mounting GoPro Hero 3,Hero 3+,Hero 4 black/silver camera - the camera should be purchased separately.
Flight modes
InFollow Memode the Q500G follows the transmitter If we move and have an ST10+ transmitter with us, the quadrocopter will follow us.
After issuing this commandReturn HomeYuneec will return to the starting point regardless of where it is now and will land near the transmitter (4-8 meters).
InWatch Memode, the quadrocopter will turn the camera towards the operator and film him regardless of which direction he is flying.

All functions in one controller
The included ST10+ transmitter is an apparatus that has all the necessary functions to fully control the quadrocopter during flight. Equipped with a 5.5 inch touch screen, it displays current telemetry data. The equipment works on the basis of the Android system, there is no need to install any additional functions.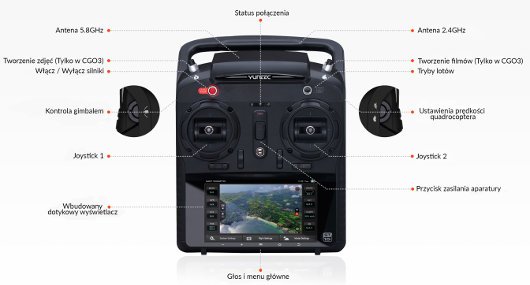 The control apparatus is included in the set.
Specification Yuneec Typhoon Q500-G
| Name | Description |
| --- | --- |
| Flight time | up to 25 minutes |
| Weight with battery | 1700 g |
| Weight without battery | 1130 g |
| Battery | LiPo 5400mAh 3S 11.1V (included). |
| Charger | Charger with AC adapter for charging 3S 11.1V LiPo batteries (supplied). |
| Video transmitter | 10-channel, 2.4 GHz + 5.8 GHz with video transmission (included). |
| Operating frequency of the equipment | 2.4 GHz |
| Flight modes | Follow Me / Watch Me / Return Home |
| Speed of rotation | up to 65 °/s |
| Operating temperature | from -5°C to 80°C |
| Speed of climbing | up to 2 m/s |
| Maximum speed | 8 m/s |
Specification of gimbal GB203
| Name | Description |
| --- | --- |
| Dimensions | 115 x 110 x 97 mm |
| Mass | 230 g |
| Mechanical movement range in the Pitch axis | from -120° to +60° |
| Mechanical movement range in Yaw axis | from -45° to +45° |
| Mechanical movement range in the Roll axis | from -45° to +45° |
Video transmitter specifications
| Name | Description |
| --- | --- |
| Model | MK58 Digital Video Downlink |
| Dimensions with antenna | 63 x 11.5 x 30.2 m |
| Mass | 36 g |
| Compatible cameras | Hero 3,Hero 3+,Hero 4 black/silver |
| Working voltage | 5 V (± 0,5 V) |
| Current consumption | Okay. 1 A |
Equipment specification
Name
Description
Model
ST10+
Dimensions with antenna
242 x 188 x 115 mm
Number of channels
10
Range (with optimal settings)

FCC License (United States): up to 800 m
CE License: up to 400 m

Modulation
Yuneec Protocol
Frequency of the video receiver
5.8 GHz
Video transmission range

FCC License (United States): up to 600 m
CE License: up to 300 m

Telemetric parameters
Yes
LCD screen
5.5'' touch screen
Screen resolution
854 × 480 px
Power supply

LiPo 3.7 V / 5200 mAh - 18.72 Wh

Camera functions

White balance, light control, ISO, shutter speed, video resolution, FPS, video recording, photos
Specification of hand gimbal
| Name | Description |
| --- | --- |
| Dimensions | 223 x 181 x 75 mm |
| Weight (without camera) | 395 g |
| Compatible cameras | Hero 3/Hero 3+/Hero 4 black/silver |
Included
Drone with gimbal
Battery
Charger
Control equipment
Spare propellers
Handheld gimbal (GoPro camera not included)
MicroSD card