Attention!
The product has been discontinued. Check other products incategory.
Description
Capacitive 7" touch screen for a minicomputer from Odroid series with a resolution of 1024 x 600 px. Works withthe Odroid C1+,C2 OdroidandOdroid XU4via HDMI and a connector for microUSB - cables are included in the package.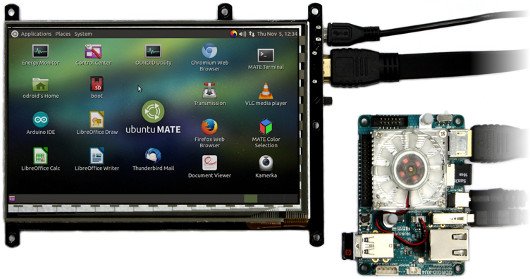 The device communicates via the HDMI cable (picture) and microUSB (touch). Both wires are included in the package.
Connect with Odroid
In order to run the display, you need to connect a device to the minicomputere Odroid via the supplied wire: HDMI and microUSB. HDMI transmits the image of the USB port, receives data of the touch interface.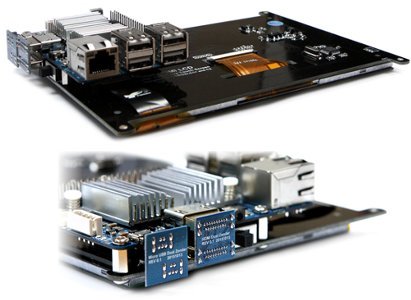 Thanks to the included cable, minicomputer Odroid can be mounted on the rear side of the screen.
Software
The screen works with the latest operating systems,AndroidandUbuntu, designed for this version of minicomputer Odroid. Detailed description can be found onthe website of the manufacturer.
Specification
Screen type: touchscreen, capacitive
Diagonal: 7 "
System Multi-Touch 5 puntów
Resolution:1024 x 600 px
Supply voltage: 5 V
Current consumption: 700 mA
Works with:Odroid C1+/C2 Odroid/Odroid XU4
Viewing angles: left: 75°, right: 75°, up: 75°, down 55°
4 mounting holes (screws included in the package)
Screen dimensions: 153,6 x 86,64 mm
Board size: 172.9 x 124.3 x 15 mm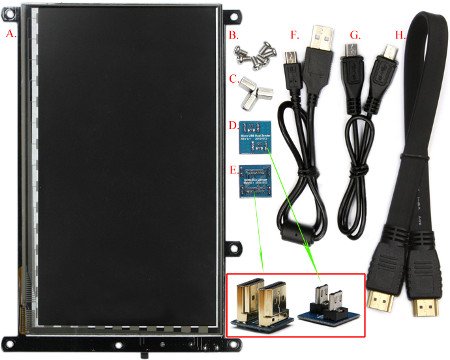 The kit includes the screen and accessories.
Set includes
A - Screen 7" touch capacitive
H - HDMI Cable
B - Mounting screws
F, G - Cable USB - microUSB for touch interface
D, E, Adapters, HDMI, and microUSB