Attention!
The product has been discontinued. Check others products incategory.
Description
Cheapduino is one of the easiest boards that are compatible with Arduino. It is designed to use in one-off projects, such as gifts, education, clothing, and various other ideas. It is based onthe ATmega8microcontroller, it has 3 PWM outputs, 3 analog ports, I2C and UART interface. It is working with voltage from 3 V to 5 V.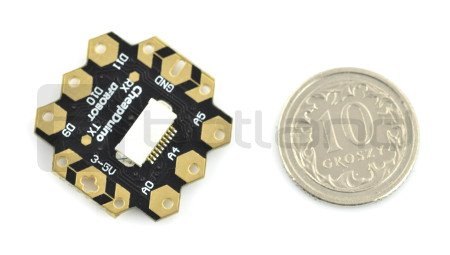 The module is very small, its dimensions are 2 x 2 cm. The price refers to 5 modules.
Programming
The has installed Arduino bootloader - this means that it can be programmed using free environment Arduino IDE. In the menu, you need to choose the COM port and the Arduino NG / ATmega8 board. Due to the small size, the board doesn't have a USB - UART converter which is used for programming. Included is an additional board, combined with the Cheapduino through the tape (blue side goes up) to which you should attach anexternal USB - UARTconverter.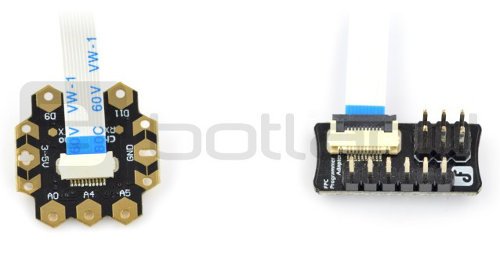 The Cheapduino connection with the auxiliary board for USB - UART converter.
Specification
Supply voltage: 3 V to 5 V
Recommended voltage: 5 V
Microcontroller ATmel ATmega8

3-pin PWM
3 analog pins
I2C interface
UART interface

Installed Arduino Bootloader (select the board in the Arduino IDE): Arduino NG / Atmega8
FPC connector (connecting cable between the FPC programmer and Cheapduino, its blue side needs to be always up)
Dimensions: 20 x 20 x 2 mm
Set includes:
5x modules of Cheapduino
2x FPC wires 
1x auxiliary board for programming