Product description: Rebel URZ3469 power outlet with remote control 2 pcs.
A set of two230V Rebel power sockets withremote control. This is the ideal solution for people who appreciate both convenience and energy savings. Rebel power sockets can prove particularly useful when connecting devices in hard to reach places. When you need to quickly disconnect them, you can use the remote control included in the set, its range isup to 30 meters.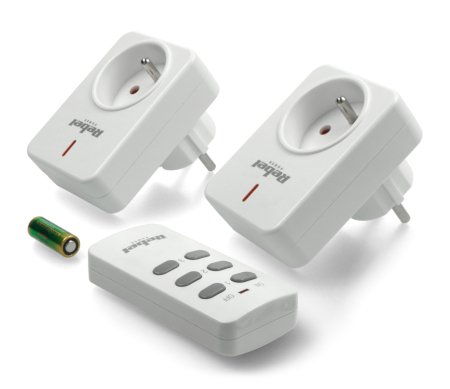 Power outlet Rebel URZ3469 controlled by remote control.
Specification of the Rebel outlet controlled by remote control
3 channels of socket control
Grounded sockets
Possibility to connect up to three sockets to one channel
Socket power indicator
Indicator of remote control activity
Power supply: 230 V 50 Hz
Maximum current load 10 A
Maximum power: 2300 W
Frequency of remote control: 433.92 MHz
Remote control range: up to 30 metres
Remote control battery: 23 A, 12 V (not included)
Socket dimensions: 56 x 82 x 70 mm
Remote control dimensions: 38 x 82 x 16 mm
Socket and remote control colour: white
Socket weight: 103,2 g
Weight of remote control (with battery): 35,1 g
Set includes
2 power sockets Rebel URZ3469
Manufacturer's packaging
Remote control (without batteries)