Product description: 3D Printer - Creality Ender-3 V2
Creality Ender-3 v2 is a new, improved version, combining the advantages of previous models with a considerable number of new solutions. The printer allows you to print elements with dimensions of 220 x 220 x 250 mm, and the dimensions of the entire structure are 475 x 470 x 620 mm. Ender-3 v2 has a completely refreshed interface, a new version of the motherboard equipped with silent drivers and a glass table, thanks to which there will be no more problems with printing. The 3D printer is partially assembled, so assembly is quick and easy.
New, improved motherboard
Compared to the previous version, the Creality End er-3 v2 printer is equipped with a new, improved version of the motherboard, which uses silent drivers of motors from the popular TMC series. This completely eliminates the noise associated with stepper motors and reduces the generated noise to less than 50 dB.
Creality Ender 3 3D printer for the beginning of adventure with prints
This printer model is an optimal proposition for 3D printing beginners, who are more and more numerous as the FFF/FDM technology develops. The Creality Ender-3 3D printer is delivered as a kit for self-assembly - it takes only several minutes to prepare the device for work. The workspace has dimensions of 220 x 220 x 250 mm, and the platform is heated to a maximum temperature of 110 °Cin 5 minutes. The basic variant, i.e. Ender 3 printer, is designed to work with PLA, as well as TPU, gradient and carbon fibre-enriched filaments. Depending on the selected model, the user receives a 3D printer Creality Ender-3 with a single nozzle with a diameter of 0.4 mm or with the entire set, including two additional nozzles with diameters of 0.2 mm and 0.3 mm, designed for printing smaller details. The maximum printing speed ranges from 100 mm/s (in the Creality Ender-3 V2 model) to 180 mm/s (in the Ender-3 and Ender-3 Pro models). LCD displays are used to control the printer, with the Creality Ender-3 V2 3D printer equipped with a 4.3-inch color graphic display.
New user interface and refreshed look
Creality Ender-3 v2 features a completely revamped user interface. The 4.3'' color graphical display lets you view intuitive menus in eye-popping HD resolution. It is worth noting that the display has got its original casing, which eliminates the possibility of accidental damage to the electronics. Changes were also made in the hot end, which received a new, redesigned housing.
No more uneven tables
The Creality Ender-3 v2 3D printer features a glass table with an overlay to increase the adhesion of printed models, so you won't need to use chemicals or painter's tape to increase adhesion. The glass table eliminates the biggest problem - uneven table surface. Now that it is properly leveled, we can enjoy a great first layer and thus a high-quality print. The glass is mounted with special clamps, thanks to which it securely holds the table.
Solutions facilitating work with the printer
Creality printers are famous for a very good support from the manufacturer and an amazing community creating additives facilitating the work with the printer. The Ender-3 v2 is equipped with a number of improvements over previous versions, which will positively affect the calibration and work with the device. The Ender-3 v2 has the original knobs that allow you to conveniently tension the X and Y axis strips. Manual feeding or removing the filament will facilitate the user to build in the extruder knob. It will also allow you to notice in an easier way the possible incorrect work of the extruder - jumping knurl. A tool drawer located next to the display will help you keep your work station tidy. The function of resuming printing after a loss of power will save the user time and allow to continue printing in case of a temporary power failure.

A video showing the installation of the Creality Ender-3 v2 printer.
Creality Ender-3 v2 printer specifications
Technical Specifications
Printing method:
FDM
Supply voltage:
100 V to 240 V (AC - mains)
Operating voltage:
24 V (built-in power supply)
Total power:
270 W
Display:
LCD
Printing speed
up to 100 mm/s
Printing accuracy:
± 0.1 mm
Printing thickness:
0.1 mm to 0.4 mm
Nozzle diameter:
0.4 mm
Supported Filament:
PLA, ABS, TPU, gradient,
carbon fiber filament, etc.
Filament diameter:
1.75 mm
Operation mode:
Online or from SD card
File format:
.stl, .obj, .amf
Software:
Cura, Repetier-Host, Simplify3D
Print size:
220 x 220 x 250 mm
Nozzle temperature:
250°C max.
Work table temperature:
110°C
Printer dimensions:
475 x 470 x 620 mm
Weight:
7.8 kg
A 4 cm high figure made on the previous model of 3D printer - Creality Ender-3.
Possibilities of Creality Ender-3 v2 printer
Ender-3 v2 supports all the most popular types of filaments, such as PLA, PETG or ABS - thanks to the table, which heats up to 100 ° C. The layer thickness can range from 0.1mm to 0.4mm, and the printing precision is 0.1mm. The printer supports filaments with a diameter of 1.75 mm. A 24 V power supply, rarely found in this price range, is responsible for the stable operation of the device.
Read more about 3D printing on our blog!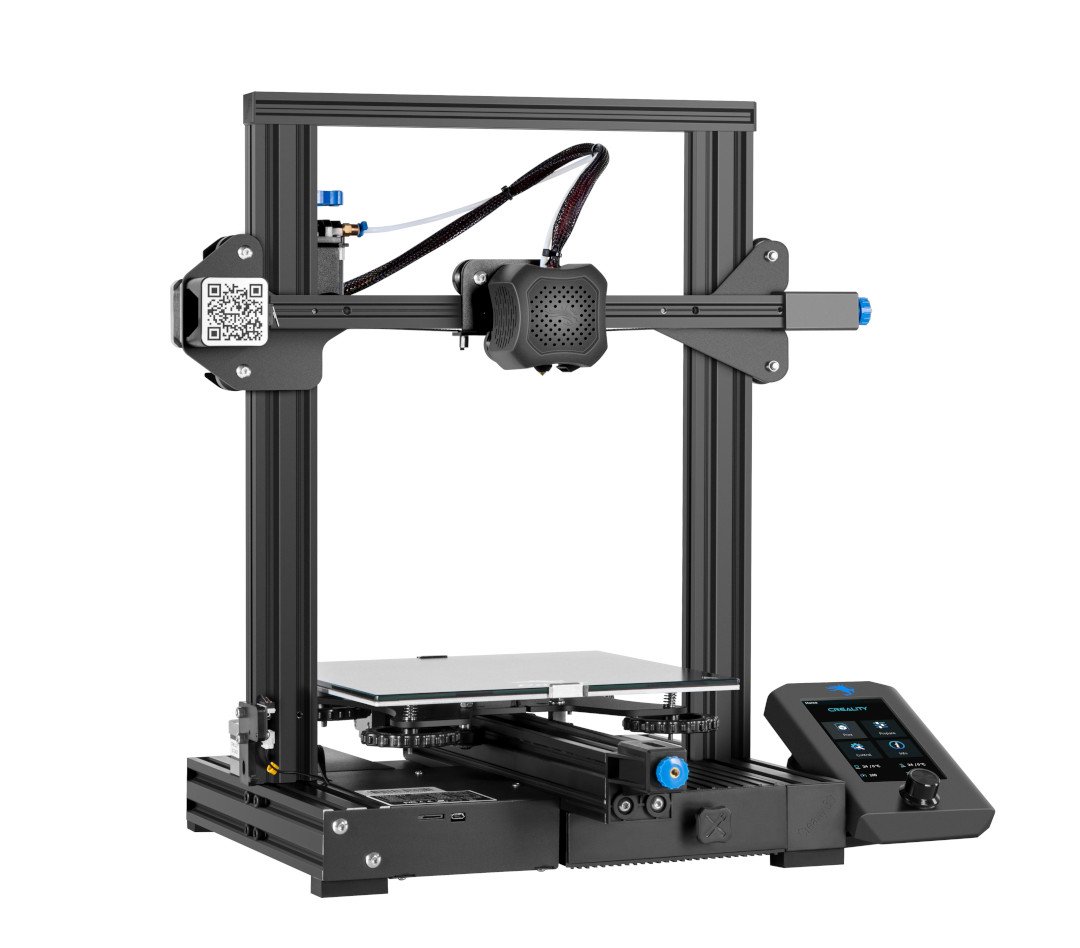 Expert review of Creality Ender-3 V2 printer
3D printer - Creality Ender-3 V2 has excellent reviews among all users. I think it's an excellent product, and Creality has significantly improved their latest model over the previous generation.
A number of improvements have been made to an already excellent working device. First of all, the entire operation of the Creality Ender-3 V2 3D printer is now based on a new interface, which is installed on a newer motherboard. In my opinion, the intuitiveness and work culture has been significantly improved compared to its predecessor. Performing tasks has become simpler and faster.
The big change is also a new table, which this time is made of glass and provides a perfectly flat and even surface. This has a very significant impact on the final quality of printed models. I strongly recommend 3D printer Creality Ender-3 V2 - this is an excellent equipment with countless positive reviews, which are another proof of high quality!