Description: H3LIS331 - 3-axis I2C/SPI STEMMA QT/Qwiic accelerometer - Adafruit 4627.
The Adafruit Ultra High Range3-axisaccelerometer module allows you to measure the acceleration within an adjustable range up to± 400 g.Communication takes place via the serialI2C and SPIinterface. It has a supply voltage in the rangefrom 2,16 V to 5 V.
Built-in, configurable low and high pass filters allow to adjust the reading to the application in use. The module allows the user to adjustthe data transfer rate. This allows you to adjust the frequency of measurements depending on power consumption.
The output of the Adafruit 3-axis accelerometer
The module has leadouts in the form of soldering fields, to which the included goldpin connectors- 2.54 mm raster- should be soldered. The second connection option is to use STEMMA QT/Qwiic connectors. Below there is an example diagram of connection of H3LIS331 module usingcontact board, STEMMA QT/Qwiic connectors andMetroboard.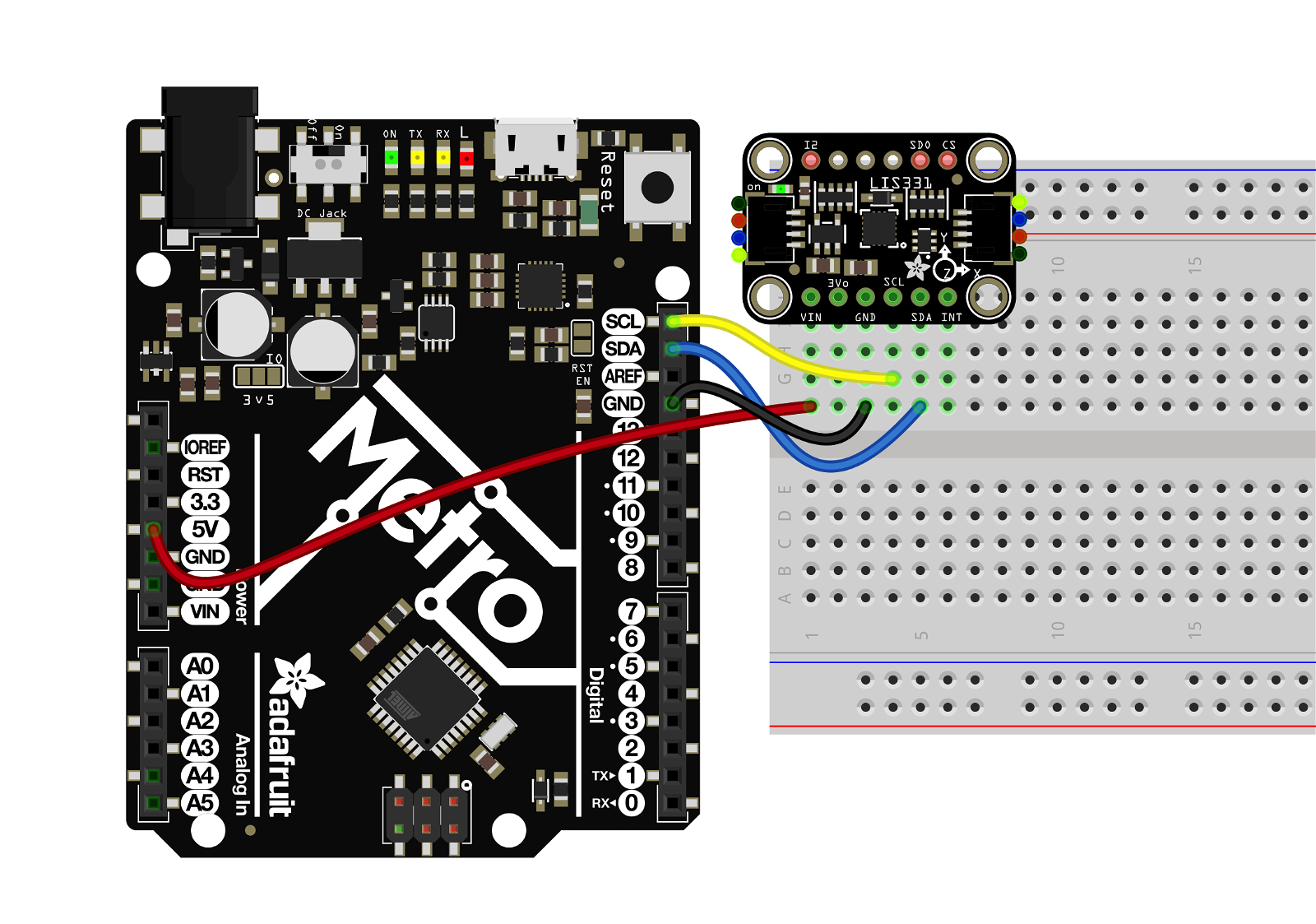 Pin
Description
Vin
5 V power supply.
3Vo
Power supply 3 V.
SDA
I2C bus data line.
SCL
I2C bus clock line.
SDO
Pin for address selection in I2C mode.
CS

Chip select in SPI communication.

INT/I2
Break out.
Arduino compatible product
In order to facilitate work with the module, the manufacturer has prepared auser guide.
Specification H3LIS331 - 3-axis I2C/SPI STEMMA QT/Qwiic accelerometer - Adafruit 4627
Operating voltage: 2.16 V to 5 V
I/O compatible with 1.8 V
Communication interface: I2C / SPI
Accelerometer:

3 axes: X, Y, Z
Adjustable range: ± 100 g, ± 200 g, ± 400 g
Resolution: 16 bits
Current drawn: up to 10 µA in low consumption mode

Soldering fields for goldpin connectors - raster 2.54 mm
Overload resistance: 10000 g
Plate dimensions: 18 x 17 mm
Set contents
Accelerometer module
Goldpin connectors