Attention, the sale of the product is complete!
Orange Pi minicomputers have been withdrawn from sale due to the manufacturer's failure to provide appropriate certification. We encourage you to familiarize yourself withother devices available in our offer.
Description
Transparent housing forOrange Pi Plus 2eminicomputerwithexternal dimensions 113 x 70 x 30 mm. It gives access to power and multimedia connectors. The housing consists of elements for self-assembly, which are tightly fitting. We recommend that you take special care during installation, as the smooth surface can easily be damaged.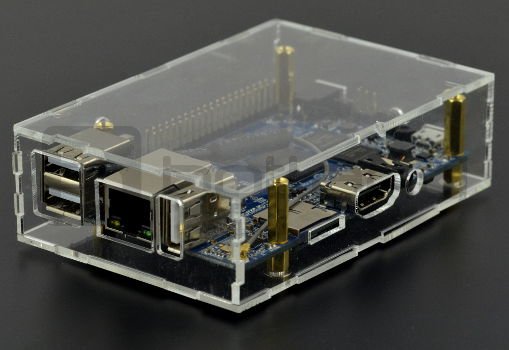 In the picture,Orange Pi Plus 2eminicomputerin the enclosure. The subject of sale is the casing, other elements can be purchased separately.
Specification
Colour: transparent
Material: Plastic
Access to connectors: HDMI, power, USB, microUSB, Ethernet, Jack, microSD
Housing made of self-assembly parts
External dimensions: 113 x 70 x 30 mm