Product description: MC33926 2-channel motor driver 28V/3A - Shield for Arduino
The module is based on a MC33926 (documentation) allows to control the motors with a supply voltage up to 28 V and continuous current consumption of up to 3A. The driver withstands also seconds of the current jumps of up to 5A. The rotation speed can be controlled usingPWM signal of up to 20 kHz. Analog output FB allows you to measure the current consumption of the motors with sensitivity of 0,525 V/A. The module also has theprotection from the flow of too high current and overheating the system. Details are inthe documentation.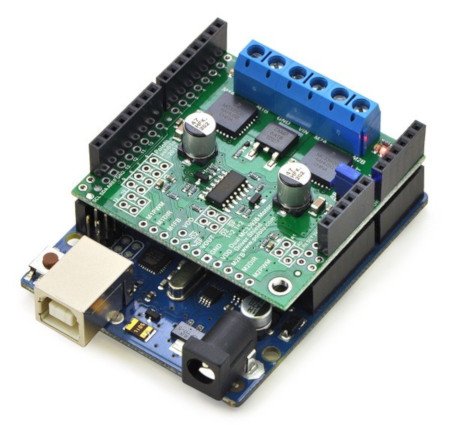 In conjunction withArduino, using a speciallibraryyou can easily control the speed and direction of rotation of two brushed DC motors. Shape and pins of the module MC33926 allow for direct connection tothe Arduino, as shown in the pictures above. Detailed description is inthe user's guide(eng.).
Connection
The module can be connected via direct attachment of the board to Arduino. In offer, we also havethe MC33926 module which can be connected using jumper cables or by using the breadboard to any pins of the Arduino module. Below are pictures illustrating the connection method and distribution of the pins.
Module in combination with Arduino (left). The module is connected via wires (right).
Dimensions
The module is a rectangle of a size of 51,3 x 48,5 mm.

Heat dissipation
The MC33926 chip that was used in the module, has a maximum continuous current up to 5A. However, without applying a proper cooling, the driver will overheat at lower currents. For example, at room temperature, the driver was able to deliver 5A for about 10 seconds, and 4A for about 37s. After this time, the thermal protection turned off the system. At the consumption of 3A, the protection starts in approximately 10 minutes. To increase thecurrent capabilities of the chip, you need to installthe radiator which can be installed usingthermo-conductive glue.
Diagram of the module
The system includes components required for correct operation of the driver. Pins are popular goldpin connectors (2.54 mm pitch), through which you can connect the module withArduino board.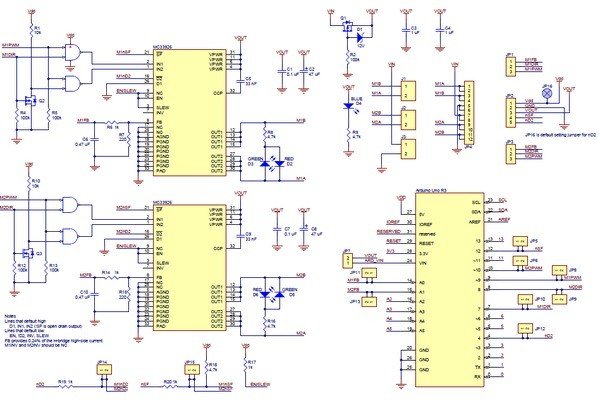 Diagram of the motor driver module.
Specification of Pololu MC33926
The motor supply voltage: 5 - 28 V
Voltage of logic signals: 2.5 V - 5.5 V
Continuous output current per channel: 3A (higher with the use of radiator)
The maximum short-term current per channel: 5 A
PWM frequency: up to 20 kHz
Protection from incorrect power supply attachment
Thermal protection
Sensor of the current consumed by the motors 
(about the sensitivity of 525 mV/A)
The module can be used with the originalArduinoand its clones
The modul can power the Arduino
The possibility to map the pins when the default are busy
The Arduino libraryfor easy work
Detaileduser manual
Dimensions: 48.5 mm x 51.3 mm
Weight: 10 g (without connectors)
Included: module, power connector, goldpin strip for self-soldering.