Product description: Lofi Robot - Codebox Full Kit - Robot construction kits.
A package containing threeCodebox Starter, DriveandTV LoFi kits. The full package consists of adozen or so robot constructions anddozens oflesson scenariosallowing to work with students at two difficulty levels: beginnerandadvanced, fromblock programming to C programming.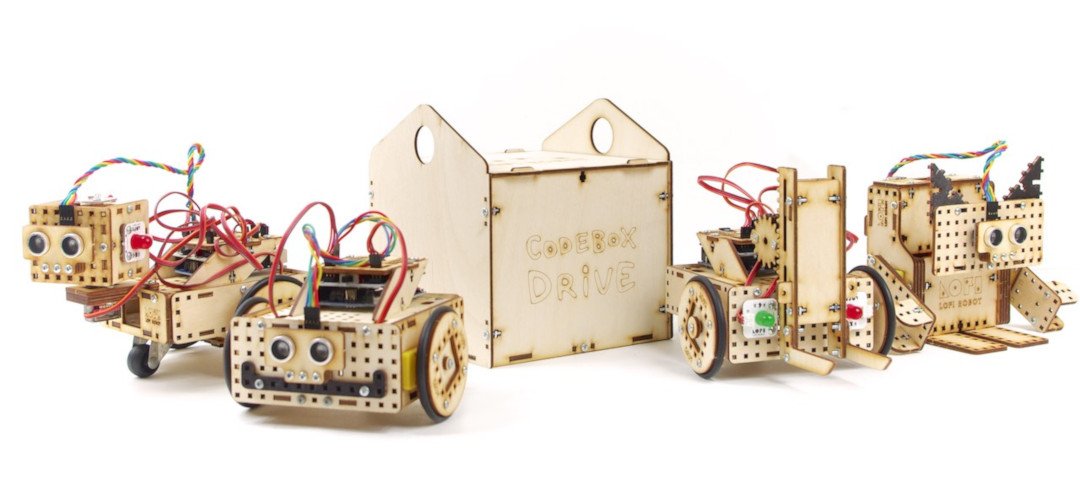 The set includes Codebox Starter, Codebox Drive and Codebox TV.
The set consists of elements for self-assembly.
Codebox Starter
Basic set for building robots for beginners. It provides young inventors with the basics of electronics, robot mechanics and programming. It allows for the construction of basic models of robots: a search engine, a header, an automatic gate, a shooting range and a talking robot.
Codebox Drive
The Codebox Starter extension kit allows you to build various types of vehicles, based on the Lofi Brain driver and elements from the basic kit. It enables the construction of a basic vehicle, a lift (finger), a robot, a header vehicle and a light-box.
Codebox TV
Another extension kit for Codebox Starter, it includes an 8 x 8 RGB LED display. Each matrix LED is addressed individually, allowing you to create all kinds of graphics and animations, it can also be used as a light panel.
The Codebox Full package includes
Codebox Starter Kit
Codebox Drive Kit
Codebox TV set
Bluetooth 2.0