Product description: 3D printer Dobot Mooz 2 Plus WiFi 3 in 1
Mooz 2 Plus printer with additionalCNC and laser head modules. Dobot's device enables easy replacement of individual extensions. The construction is made entirely of metal, which ensures stability during operation. The printer workspace is 200 x 200 x 190 mm. Laser and CNC working area is 200 x 200 mm.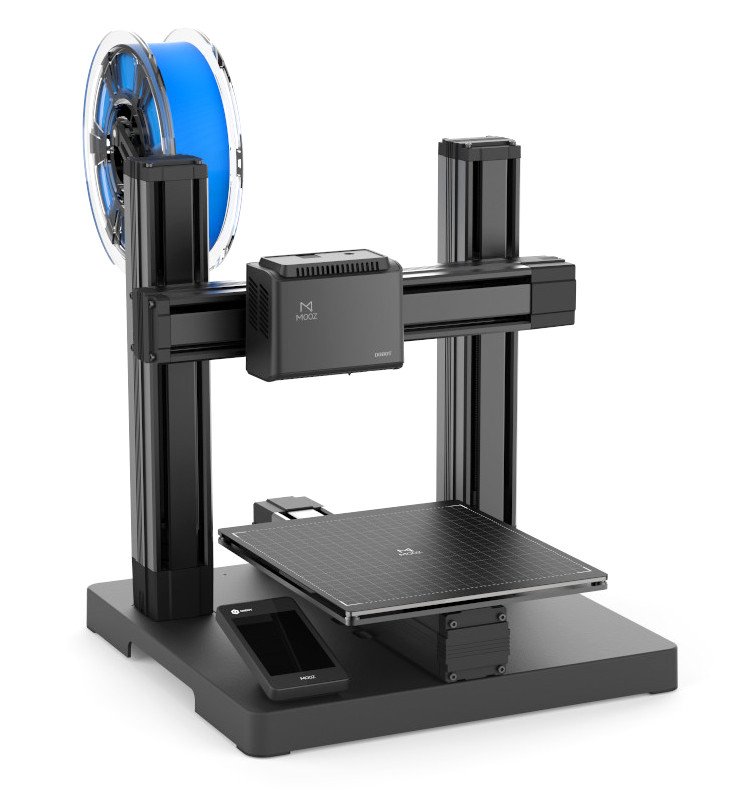 Mooz 2 Plus 3 in 1.
This versatile device can fulfilthree functionsdepending on our needs. From a traditional printer, it can turn into a full value0.5 W laser engraveror a precisionCNCmachine in just the time needed to change the module. The ease of this change will be appreciated by both professionals and people with little experience.
Modules in Dobot Mooz 2 Plus 3 in 1.
Large working area and precise motion mechanics
Mooz 2 Plus offers alarge working area. The 3D printer module allows you to create objects with a maximum size of 200 x 200 x 190 mm. The laser and CNC work area is 200 x 200 mm. The device uses high qualityindustrial grade components. The robust steel rail with bearings, powerful stepper motors and linear guides provide high precision and comfort. The machine frame is made ofaluminum used in aviation. It is therefore stable and better able to absorb vibrations generated during operation.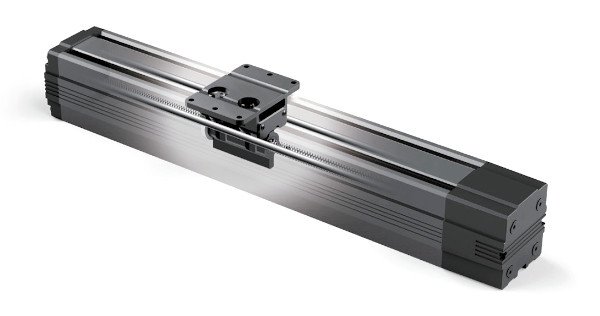 Precision guides used with Mooz 2 Plus.
3D CNC printer and laser burner in one
The Mooz-2 Plus 3-in-1printeruses amodified heating table.It consists of a glass platform, which ensures smoothness and even heating. A flexible steel sheet is placed on it. It is removable, which makes it easy to tear off the printout. The device hasa filament sensoranda function to continue printingafter a power failure. The 3D printer module also has a Z-axisauto-calibration modeand an extruder with a double drive adapted for printing flexible filaments such as TPU.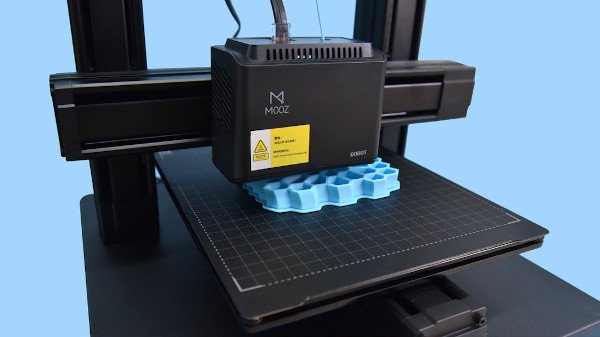 3D printer module Mooz 2 Plus.
The CNC modulein Mooz 2 Plus operates at a maximum speed of8000 rpm. Specially designedclampsprovide a secure hold on the material. To increase work safety, the manufacturer used an MDF board, which separates the model and the working platform.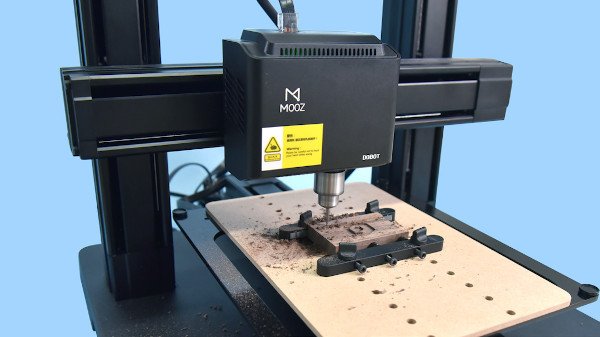 CNC module Mooz 2 Plus.
Thelaserused in the Mooz 2 Plushas a power of 1,6 W. It is almost three times stronger than in the previous version. This makes preciseengraving even faster. The laser beam with this power can even be used to cut some thin materials.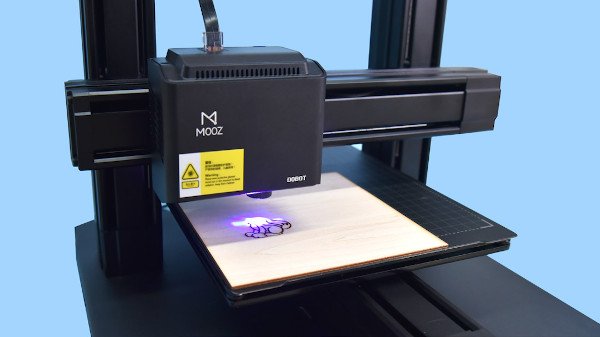 Laser engraver module.
Convenience and safety
The Mooz- 2 Plus kit includes a specialshielding that is necessary when working with the laser andCNCmodule. For the user's safety, a built-in sensor makes it impossible to work in these two modes without the cover on. Additionally,protective gogglesare supplied with the set.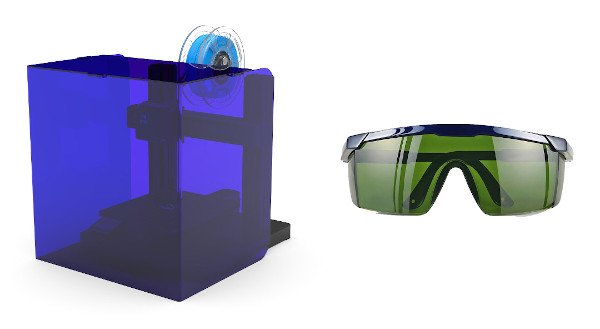 Cover and protective goggles.
Mooz 2 Plus is controlled by means ofa touch panelwith a clear and user-friendly menu. Optionally, the device can also be managed by means ofadedicatedapplicationvia WiFi network.

Two ways to control Mooz 2 Plus.
Mooz 2 Plus specification 3 in 1
Basic information
Power supply voltage:
100 V to 240 V
The tension of work:
12 V / 10 A
Frame material:
aluminium alloy
Display:
3.5'' touch
Communication:
WiFi, USB cable, USB flash drive
Dimensions of the device:
355 x 355 x 390
The weight:
10 kg
3D printing
Material of the work table:
glass platform + flexible steel plate
Working table temperature:
up to 80°C
Work area:
200 x 200 x 190 mm
Print speed:
from 0 to 80 mm/s
Nozzle diameter:
0.4 mm
Nozzle temperature:
up to 250°C
Extruder:
single with double direct drive
Layer resolution:
from 0.05 to 0.3 mm
Supported materials:

PLA, TPU, PETG, Flexible, etc.

Diameter of pillar:

1.75 mm

.
Supported file types:
.stl, .obj, .jpeg, .jpg, .png
Additional features:
self-levelling, filament sensor, resume printing
Laser engraving
Work area:
200 x 200 mm
Laser power:
1,6 W
Laser life:
4000 hours
Safety Class
class 4
Supported materials:
wood, bamboo, leather, plastic, fabric, paper, opaque acrylic, etc.
Supported file types:
.svg, .jpeg, .jpg, .png, etc.
CNC carving
Work area:
200 x 200 mm
CNC head clamping range:
from 0 to 4 mm
The size of a standard CNC bit:

3,175 mm x 0,3 mm x 30°

Spindle speed:
8 000 rpm
Supported materials:
wood, bamboo, acrylic, PCB, carbon fibre sheet, plastic