Product description: SenseCAP SOLO CO2 5000 - CO2 concentration sensor - NDIR - MODBUS-RTU RS485 and SDI-12 - Seeedstudio 101990669
DigitalCO2 concentration sensor, which operates on the basis of non-dispersive NDIR technology. A non-dispersive sensor, which means that there is no element that splits light into its components. The measuring range is from 400 ppm to 5000 ppm. The module supports Modbus (Modbus-RTU / Modbus-ASCII) RS485 and SDI-12communication protocols, has built-in calibration and compact dimensions. It can be used for indoor and outdoor environment. It is used in agriculture, greenhouses, industrial ventilation systems or transport stations, as well as in projects that require the determination of CO2 levels.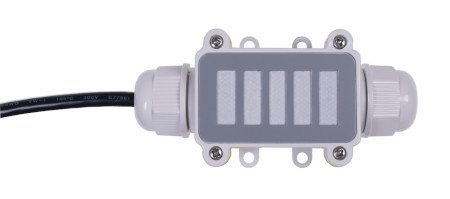 Digital CO2 sensor from Seeedstudio.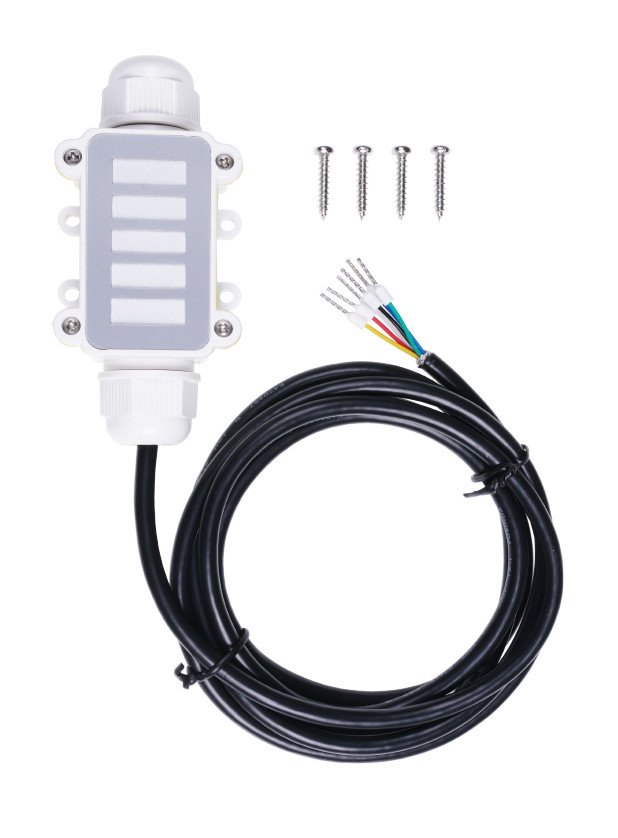 Mounting screws are included.
Features
High performance: accuracy, fast response and excellent stability
MODBUS, RS485 and SDI-12 support
Compact probe dimensions of 110 x 50 x 35 mm
User-friendly and ready-to-use: fully calibrated, easy to install and integrate
Power supply from 5 V to 16 V
Wide measuring range and high accuracy: from 400 ppm to 5000 ppm, ±(50 ppm + 5% * MV)
Wide range of applications
Smart agriculture
Smart cities
Construction of ventilation systems
Industrial ventilation systems
Airport, train station, shopping mall, home, office or classroom
Laboratory, warehouse and other places to monitor CO2 levels
Connection diagram
The sensor comes with a cable that is terminated with 6 leads. It should be connected to Raspberry Pi andArduinousingGrove RS485converter according to following markings:
Yellow - RS485+ / A / T+
Green - RS485- / B / T-
Red - VCC+
Black - VCC- (GND)
Blue - SDI-12 5 V
White - SDI-12 3.3 V
Technical specification
CO2

Measuring range
from 400 ppm to 5000 ppm
Accuracy
± (50 ppm + 5% x MV) (in the range from 400 ppm to 3000 ppm)
Distribution
1 ppm
General Specifications
Model
SOLO CO2 5000
Interface
RS485
Protocol
Modbus-RTU RS485 / Modbus-ASCII RS485 / SDI-12 (v1.4)
Response time (T90)
<5 minutes="" for="" a="" typical="" 90="" step="" change="" td="">
IP class
IP x 5 (PTFE filter is not waterproof)
Working temperature
From -10°C to +50°C
Permissible humidity during operation
0% to 85% (non-condensing)
Cable length
2 m
Probe dimensions
110 x 50 x 35 mm
Weight
300 g
MODBUS RS-485
Power supply
5 V to 16 V
Current consumption

Vin = 16 V; 22 mA
Vin = 12 V; 28 mA
Vin = 9 V; 34 mA
Vin = 5 V; 57 mA

Time to prepare for work
approx. 120 s
Scan frequency
1 s
Response time
≤ 4 ms
SDI-12
Power supply
5 V to 16 V
Current consumption (sleep mode)

Vin = 16 V; 28 mA
Vin = 12 V; 29 mA
Vin = 9 V; 30 mA
Vin = 5 V; 35 mA

Current consumption (active mode)

Vin = 16 V; 20 mA
Vin = 12 V; 27 mA

Vin = 9 V; 33 mA

Vin = 5 V; 55 mA

Warm-up time
15 ms
Scan Interval
120 s