Product description: Grove - Blueseeed - Bluetooth module HM11 - Seeedstudio 113020007.
Bluetooth module based onHM11chip. It allows to extend functionality ofArduinoor Seeeduino with wireless communicationLE 4.0. With support for BLE ComAssistant, the module can communicate with the phone without pairing and directly through AT commands. It communicates through UART serial interface. The board is equipped with a Grove connector for quick connection with aBase Shieldcover.
Module outputs
The module communicates through the UART interface. Built-in Grove connector facilitates connection of the module and e.g.ArduinowithBase Shieldoverlay.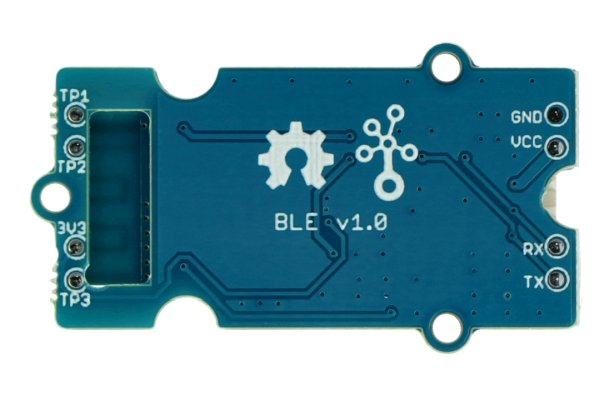 | Pin | Description |
| --- | --- |
| GND | The weight of the system. |
| VCC | Supply voltage 3.3 V or 5 V. |
| RX | UART interface data receiving line. |
| TX | UART interface data upload line. |
Specification of Bluetooth module HM11
The deal: HM11
Bluetooth version: BLE 4.0
Power supply voltage: 3.3 V or 5 V
Current consumption during operation: up to 10 mA
Current consumption during connection: up to 20 mA
Current consumption at rest: up to 1 mA
Frequency of operation: 2.4 GHz ISM band
Modulation method: GFSK
RF power: -23 dbm, -6 dbm, 0 dbm, 6 dbm - modified by AT+POWE command

Speed: asynchronous - 6 kB, synchronous - 6 kB

Affection: -84 dBm at 0.1% BER

Security: authentication and encryption

Operating temperature: -5°C to 65°C
Dimensions: 40 x 20 mm