Description: Grove - IR thermal imaging camera MLX90621-BAA 120st. - I2C - Seeedstudio 101020893
TheMLX90621-BAAthermal imaging camerais based on theMLX90621-BAAsensor, equipped with a 16 x 4 resolution matrix that can measure object temperature with an accuracy of ± 1°C ± 3% To-Ta. This is the measured temperature on the surface of the object, while this is the temperature of the sensor itself. It uses anI2Cinterface for communication, powered from 3.3 V to 5 V. The camera's viewing angle is120° x 25°. The measuring range of the sensor isfrom -20°C to300°Cand the operating temperature of the sensor itself is from -40°C to 85°C. The IR matrix is fully calibrated.
The principle of operation of a thermal imaging camera
Each object emits a certain amount ofIR radiation. The thermal imaging camera is equipped with anMLX90621sensor that detects small differences in temperature between objects in the environment. It collects infrared information andcreates an imagefrom it. A warmer object produces more IR radiation.
The MLX90621 thermal imaging camera leads
The module for communication with the microcontroller uses theI2Cinterface. For proper operation of the camera, a chip with at least20 kB of RAMshould be used. The camera operates with voltage from 3.3 V to 5 V. It is equipped with a connectorGrovewhich allows you to easily connect the module to the base board.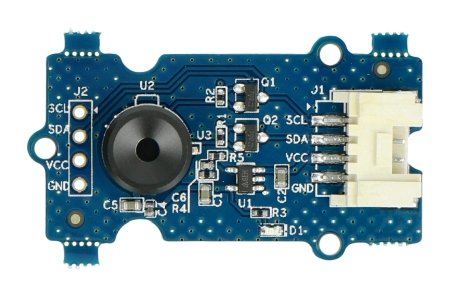 Module outputs.
| PIN | DESCRIPTION |
| --- | --- |
| SCL | I2C bus clock line. |
| SDA | I2C bus data line. |
| VCC | Supply voltage from 3.3 V to 5 V. |
| GND | The weight of the system. |
Thermal imaging camera specifications
Operating voltage: 3.3 V to 5 V
Current consumption: approx. 18 mA
Viewing angle (FoV): 120° x 25°
Measuring range: -20°C to 300°C
Accuracy: ± 1°C
Refresh rate: 0.5 Hz to 64 Hz
Interface: I2C
Dimensions: 42 x 24 mm