Product description: mCookie LED matrix - RGB LED matrix
Universal module of 6 RGB diodes in mCookie standard. The product is compatible with the Itty Bitty Buggy robot, with which it is connected via amagneticconnector (without anyadditional wires). The module has popular WS2812 diodes, which are equipped with special drivers. Thanks to that, control of all 6 diodes requires only one connection.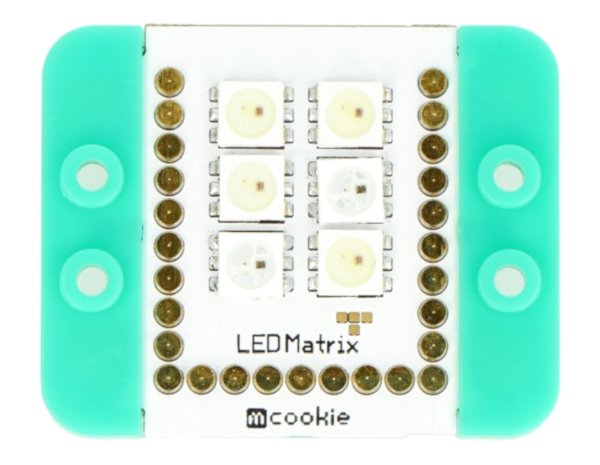 RGB LED matrix - mCookie.
Connecting the module to the robot allows you to simulate the lights of a car or e.g. a police car.Each of the diodes contains 3 luminescent structures(red, green and blue), whose brightness can be independently controlled in the range from 0 to 255. Mixing all 3 colors you can get virtually any lighting color. The manufacturer provides examples of Arduino programs, thanks to which you can quickly use the module in practice.
Arduino compatible product
The library and wiring diagram of Arduino can be found at thisaddress.
Specification m Cookie LED matrix