Product description: RFID module CTU-R5RM - 13.56 MHz
Proximity transponderand RFID cardreader, operating at13.56 MHz.It is compatible with MIFARE, MIFARE Plus, ICODE SLI and iCLASS standards. CTU-R5RM supports the following communication interfaces: RS485, RS232 TTL, SPI, I2C, WIEGAND, 1-Wire. It has two GPIO outputs. The reader can be used to program NFC cards and tags according to ISO/IEC14443 standard.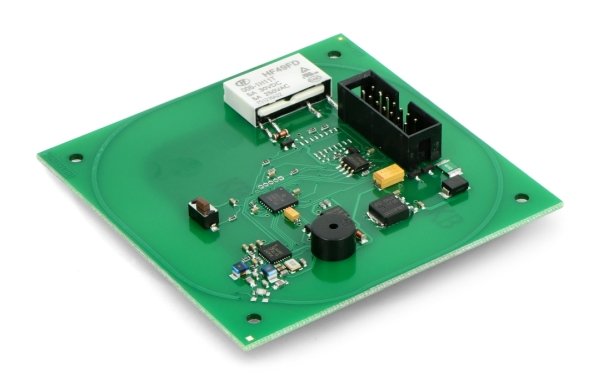 RFID module CTU-R5RM 13,56 MHz.
The RFID reader is equipped with card memory with a lock controller. The module has a built-inrelay, buzzer and antenna. CTU-R5RM enables password transmission security and configuration of sent ID number. It also has a button to return to factory settings.
CTU-R5RM module specification
Supply voltage: 5 V to 16 V
Power consumption: 170 mA
RF operating frequency of the module: 13.56 MHz
Supported interfaces: RS485

, RS232 TTL, SPI, I2C, WIEGAND, 1-Wire

Permissible relay current: 2 A
Number of GPIO outputs: 2
Maximum current of GPIO outputs: 20 mA
Memory:
Transponder reading distances: up to 10 cm
Configurable binary inputs / outputs
Control of two-state inputs
Reading the two-state outputs
Multiple transponder reading mode
Operating temperature: -20°C

to 65°C

Dimensions: 79.5 x 79.5 x 12 mm