Product description: wireless charging module - 5 V / 5 A - DFRobot FIT0702
Power modulefrom DFRobot useswireless charging technologythat is based on magnetically coupled resonance. The input voltage to be applied to the transmitting element is24 Vand the receiver generates an output voltage of5 V / 5 A. Used to power mobile electronic devices such as phones (supporting inductive charging technology), game consoles or shavers.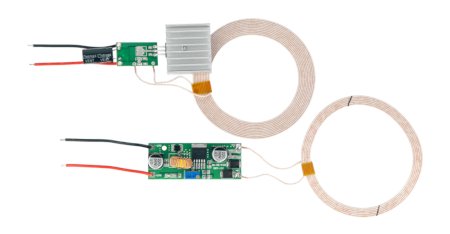 The thickness of the transmitting coil and the receiving coil is 1.3 mm and their inner diameter is 70 mm.
Wireless charging
The module manufactured by DFRobot uses anelectromagnetic fieldto transfer energy between two objects. The energy is transferred through media such as air, paper or plastic. The module can realize long distance transmissionup to 65 mmwith a maximum output power of5 V / 5 Aand an efficiency ofup to 97%. It provides high efficiency and stability even during long operating hours. In addition, the magnetic field it uses has similar properties to the earth's field, so it will not affect the human body or other devices in the vicinity.
Contents of the kit
Wireless power supply module

transmitter - 1 pc.
receiver - 1 pc.
Technical specification
Input voltage 24 V
Maximum output voltage: 5 V
Maximum output current: 5 A
Optimal receiving distance: up to 65 mm
Leads: wires with removed insulation
Wiring connection:

red wire - power supply
black wire - ground

Dimensions of transmitting coil:

external diameter: 88 mm
internal diameter: 70 mm
thickness: 1.3 mm

Dimensions of the receiving coil:

external diameter: 83 mm
internal diameter: 70 mm
thickness: 1.3 mm

Dimensions of transmitter module: 17 x 28 mm
Dimensions of receiver module: 25 x 64 x 16 mm