Product description: 4x display module - 14-segment red - overlay for Feather - Adafruit 3130
Module withfour14-segment displaysmanufactured by Adafruit. Equipped withLEDsthat display the declared values inred. The kit also includes a Feather matrix, containing a controller based on the HT16K33 chip, which uses the I2C bus to communicate with the controller module. It is compatible with FeatherHuzzah,Feather nRF52840or FeatherM0 Express 32-bit, among others. The diagonal of the dual display is 0.54'' and the dimensions are 21 x 25 x 7 mm. The module can be programmed using Arduino environment andCircuitPython- one of the fastest growing programming languages.
Technical specification of the segmented display from Adafruit
Display type: segmental, alphanumeric
Chip: HT16K33
Number of displays: 4 (14-segment + dot)
LED display with a common cathode
Diagonal of dual display: 0,54''
Communication interface: I2C
I2C interface address: selectable between 0x70 - 0x77
Maximum distance from module for clear reception: 7 m
Module background: black
Display color: red
Module dimensions: 51 x 23 x 4.2 mm
Dimensions of double alphanumeric display: 21 x 25 x 7 mm
Height with pins: 14 mm
Weight: 4.7 g
Soldering required
Set contents
4 x 14-segment display
Feather matrix with HT16K33 driver
Goldpin strip - 2,54 mm pitch - 2 x 16 pins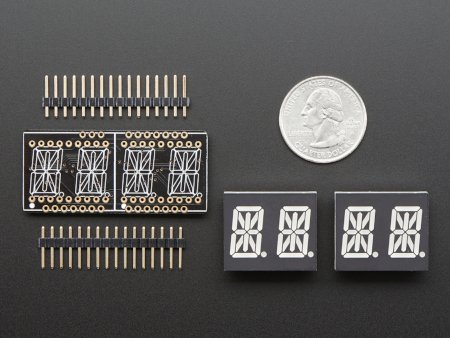 The set includes also a 2,54mm 2 x 16 pins goldpin strip, which should be soldered to the Feather matrix.Installation instructionscan be found in the user guide.