Product description: Shelly Uni - universal WiFi module
Shelly Uni's universal WiFi module, which allows you to control any legacy device viaWiFi, such as a coffee machine. Powered by 12 V to 36 V DC and 12 V to 24 V AC. The module is equipped with2 digital inputsthat support voltages from 2.2 V to 35 V DC and from 12 V to 24 V AC, as well astwo potential-free outputsthat allow switching voltages up to 36 V AC and up to 24 V DC / 100 mA. ThreeDS18B20temperature sensors can also be connected to the module. The board is protected by a plastic cover that protects it from moisture, dust and accidental short circuit.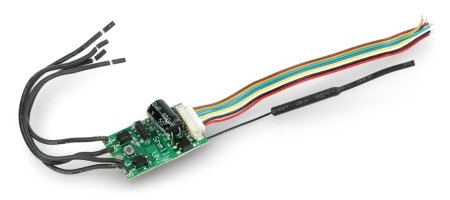 Universal WiFi module.
Main features of the Shelly Uni module
Small in size- Shelly Uni is the smallest module that can turn any device into a smart one. Its dimensions are 33 x 20 x 13 mm.
Wide range of supply voltage- the module can be supplied with 12 V to 36 V DC or 12 V to 24 V AC.
Universal digital input- has 2 independent digital inputs for 2.2 V to 36 V DC or 12 V to 24 V AC.
Universal outputs- equipped with 2 potential-free outputs, which allow control from the inputs or separately, can switch voltage up to 36 V AC and up to 24 V DC and with a maximum current of 100 mA for each.
Universal ADC- allows for voltage measurement from 0 V to 30 V DC.
Temperature and humidity sensor- Shelly Uni supports up to 3 DS18B20 sensors or 1 humidity sensor.
Universal protocols- supports REST, MQTT, CoAP, Alexa, Google Home and Samsung Smart Things, making it compatible with many home automation platforms.
Moisture protection- the board has a plastic cover to protect against dust, moisture and accidental short circuit.
Shelly Uni WiFi Universal Module Specifications
| Parameter | Value |
| --- | --- |
| AC supply voltage | 12 V to 24 V |
| DC supply voltage | 12 V to 36 V |
| Entrances | 2 independent inputs from 2.2 V to 36 V DC and 12 V to 24 V AC |
| Outputs | 2 potential-free outputs up to 36 V AC and 24 V DC, max. 100 mA each |
| Overload protection | No |
| Energy measurement | ADC - two ranges from 0 to 12 V and from 12 V to 30 V |
| Number of channels | 2 |
| Energy consumption | Up to 1 W |
| Intelligent switching on/off | Yes |
| Sunrise/sunset function | Yes |
| Weekly schedule | Yes |
| UL option | No |
| WiFi communication protocol | 802.11 b/g/n |
| Frequency | From 2400 MHz to 2500 MHz |
| Signal strength | 1 mW |
| Reach | Up to 50 m outside and up to 30 m inside (depending on the materials of the building) |
| Operating temperatures | from -40°C to 40°C |
| Dimensions | 33 x 20 x 13 mm |