Product description: M5StickC PLUS - IoT development module - ESP32-PICO + watch accessories
M5StickC PLUS - a developer module from M5Stack based on the ESP32-PICO-D4 chip , enhanced with Bluetooth 4.2 and WiFi communication and equipped with a 1.14'' color LCD display with a resolution of 135 x 240 px. Also included are accessories that allow the M5StickC PLUS to be worn as a watch. The product finds applications in a wide range of wearable device projects, as well as miniature controllers for IoT systems. Among other things, it has a built-in IR sensor, RTC, microphone, LED, 6-axis IMU that continuously monitors the device's position, functional buttons or buzzer. The battery capacity of the M5StickC PLUS ranges from 95 mAh to 120 mAh. The module is compatible with Stick HAT and Unit type extensions.
Presentation of the M5StickC Plus module.

StickC module capabilities, extensions and add-ons
The Stick series products have a built-in 6-axis IMU, which allows, among other things, to invoke pre-programmed functions by moving or repositioning the device. For communication, the M5SticikC PLUS uses a WiFi communication module and Bluetooth 4.2. The StickC modules are also equipped with:
RTC clock BM8563
MPU6886 microphone
two programmable buttons
infrared transmitter
red LED
Built-in Li-Pol 120 mAh / 3.7 V battery
M5Stack devices are also distinguished by the large number of expansion modules and their ease of use. All extensions can be connected using GPIO connectors (in this case dedicated Stick Hat devices) or Grove connectors (using this connector we can connect both dedicated sensors and sensors from Grove system). The USB C port is used to power and charge the device, the supply voltage is 5 V and the current capacity is 500 mA.
Technical Specifications
Controller: ESP32-PICO-D4, dual-core clocked at 240 MHz, 600 DMIPS, 520 KB SRAM, WiFi and Bluetooth 4.2 dual band communication
Flash memory: 4 MB
Power supply: 5 V / 500 mA
Connectors: GPIO, USB C, Grove
Display: color TFT LCD, 1.14" diagonal and 135 x 240 px resolution
Built-in buttons: 2 pieces
6-axis IMU: MPU6886
Built-in buzzer
IR transmission
MEMS PDM microphone: SPM1423
PMU: AXP192
RTC: BM8563
Antenna: 3D 2.4 GHz
Battery: 120 mAh / 3.7 V
Supported development platforms: UIFlow, MicroPython, Arduino, NanoFramework .NET
Operating temperature: from 0°C to 60°C
Housing material: PC plastic
Dimensions: 48.2 x 25.5 x 13.7 mm
Weight: 15 g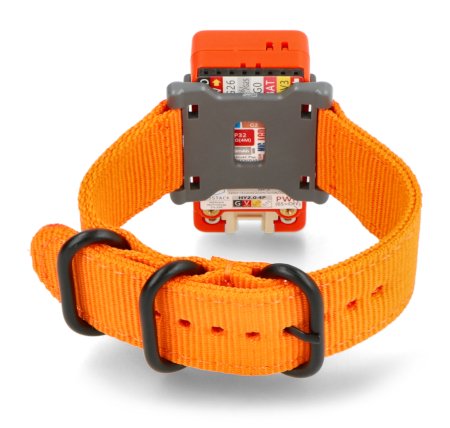 On the back of the module there is a sticker containing the most important information about the model and leads.
Kit contents
M5StickC PLUS developer module
USB type C cable, 20 cm long
Mounting bracket
Watch strap
In our offer you will also find extensions for M5StickC developer modules - HAT caps and Unit extensions. Check it out!