Description
A module that allows you to manage any device from a USB port. Communicates via UART interface. It has 6 analog inputswith 10-bit A/C transmitter and 2 digital inputs / outputs. Outputs operate at voltage of 5V.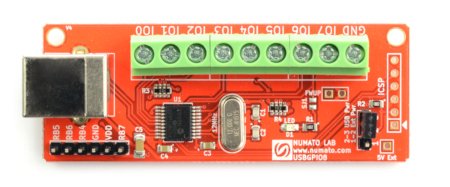 Service module
All pins can be individually programmed as inputs or outputs. The module can be controlled from any application with a serial console, for example, RealTerm. The device supports user-friendly commands, e.g. "gpio read 1" reads the GPIO 1 value. The full list is given in the user guide. The manufacturer also provides source codes of programs in different programming languages.
Specification
The number of GPIO pins: 8 (screw terminal block connectors)
The number of analog pins: 6
Supply voltage: 5 V (USB type B or goldpin connector chosen with a jumper)
The maximum performance of the outputs current: 25 mA
Working voltage of pins: 5 V
Resolution of the A/C transmitter: 10-bit
Connector: USB type B (wire soldseparately)
Module dimensions: 72 x 27 mm
The manufacturer has prepared a detailed 
guide
 together with the module's manual.