Attention!
The product has been discontinued. Check other products in category.
Description
Module with 12-bit analog-to-digital MCP4725 converter with EEPROM memory. It can precisely convert the digital signal into corresponding analog voltage signal. The analog signal can be also generated using the PWM in modules such as Arduino or Raspberry Pi. The DAC module can also be used as a function generator to generate sinusoidal, triangular and arbitralprocesses.
Connection
The module is powered with the voltage from 3.3 V to 5 V, it communicates via I2C interface (there are 2 addresses - 0x60 and 0x61, which support two modules that are connected in cascade). The EEPROM memory allows to save the DAC  inputduring power-off and recovery of the DAC when the power is resumed.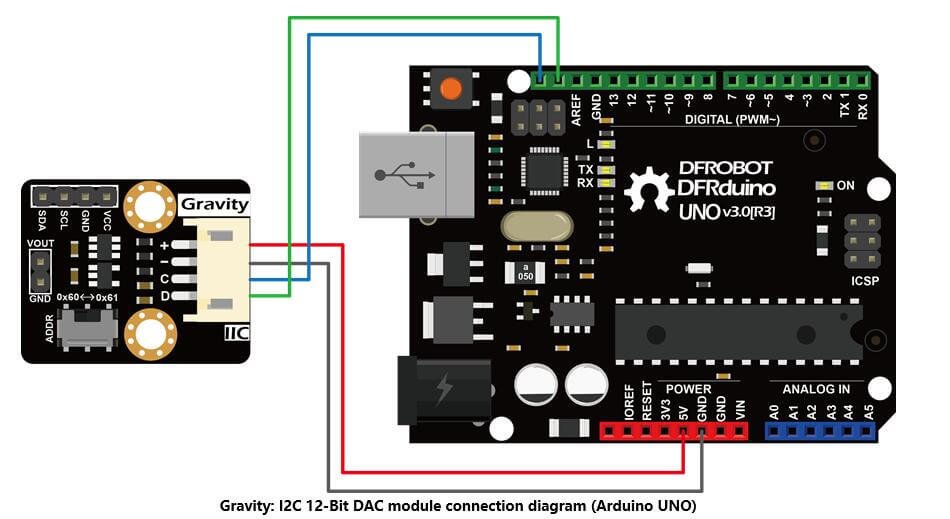 Example of connecting the module withArduino.
Application
Sensor's calibration
Automation's systems
Functional generator
Specification
Supply voltage: from 3.3 V to 5 V
Converter DAC, 12-bit
Built-in EEPROM memory
Interface: I2C - interface Gravity
Dimensions: 27 x 22 mm
Weight: 13.8 g