Attention!
The product has been discontinued. Check other products in category.
Description
Audio receiver module equipped with a VS1000D system. It allows you to play OGG Vorbis and WAV files. It has a built-in 4MB SPI Flash, can be recognized as a USB drive. The module also has connectors Jack, microUSB, GPIO pins and the Power button. Supply voltage is from 3.3 V to 5.5 V.
The microUSB connector is used to supply the module. You can connect the unit to a computer and download music, copying it to the newly created USB drive.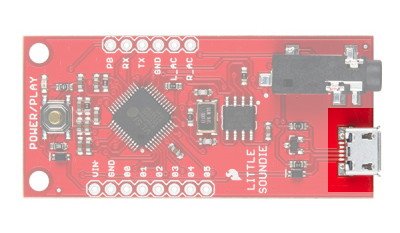 Built-in connector is for external speakers. Do not connect headphones.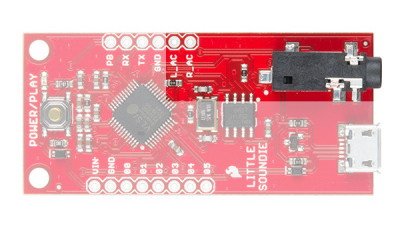 Inputs
The circuit offers the following inputs:
| Pin | Description |
| --- | --- |
| PB | Power Button - the power button. |
| RX | The receiver of UART transmission. |
| TX | Transmitter for transmission to the UART. |
| GND | The ground of the system. |
| L_AC | Left audio channel. |
| R_AC | Right audio channel. |
| VIN | Supply voltage from 3.3 V to 5.5 V. |
| GND | The ground of the system. |
| 01 - 05 | Contacts options to select the file. |
Specification
Supply voltage: from 3.3 V to 5.5 V
The voltage signals are 3.3 V logic (no 5V tolerance)
Built-in memory 4 MB SPI Flash
Download of audio on a USB storage device
Decoder OGG Vorbis
Support Wav files
Analog output Line-Out SNR > 90 dB
Support for various bitrates and sample rates
6 GPIO pins to run the music
Dimensions: 55 x 25 mm