Attention!
The product has been discontinued. Check other products in category.
Description
Set of elements for making your ownweather station. It includes a main module based on Arduino, sensors, display and wooden case. It measures the values ofCO2, TVOC, pressure, temperatureandhumidity, and determinesthe atmospheric or electronic discharges within a radius of 40 kilometers.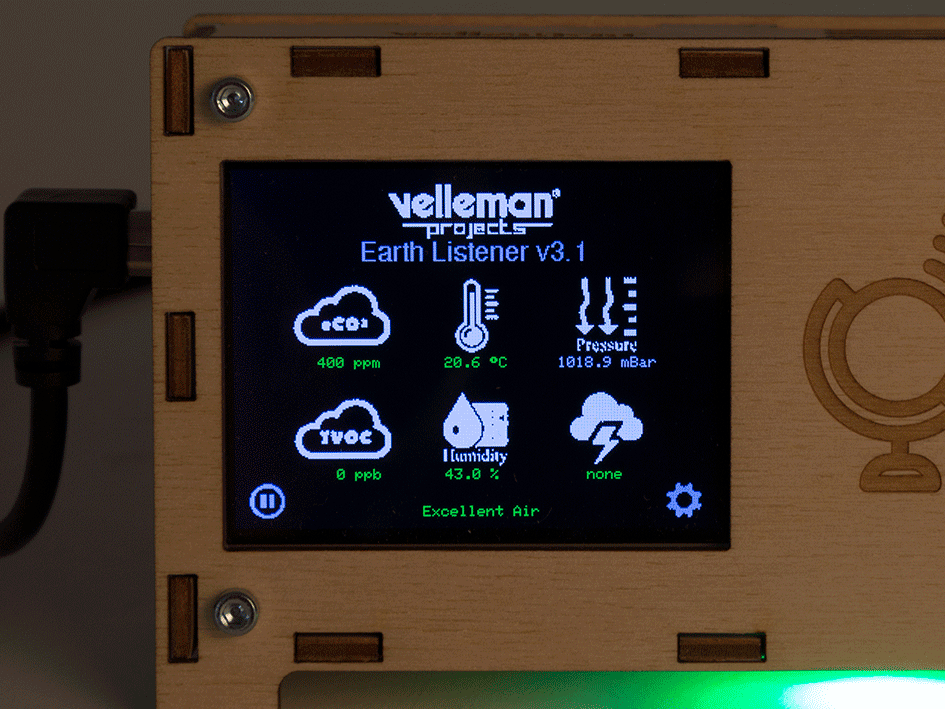 Key features
The module compatible with Arduino Mega was programmed by the manufacturer
Open source code
Wooden case
It measures the values of CO2, TVOC, atmospheric pressure, temperature and humidity level
It detects atmospheric or electronic discharge within a radius of 40 km
The values are displayed on the touch screen of 2.8"
Data is registered on the SD card (not included)
Attention!
Before measuring the values of eCO2 and TVOC, the device requires 48 hours of heating and at least 20 minutes of registration
The set is intended for informational purposes only. The values should be interpreted, taking into account the conditions in the environment.
Specification
The main module is compatible with Arduino:

microcontroller: ATmega2560
power supply: 5V (USB)
loose pins remaining after assembly: 30 digital and 5 analog

Touch screen:

TFT resolution: 320 x 240 px
color depth: 262 000 colors

Sensor CCS811:

determination of the concentration of volatile organic compounds TVOC: 0 to 1187 parts on milard
detection eCO2: from 400 to 8192 parts per million
interface: I2C

Sensor BME280:

temperature range: -40 °C to 85 °C
humidity range: 0% to 100% RH

relative humidity: 3 % from 20% to 80 %

pressure range: from 30 000 Pa to 110,000 Pa

relative accuracy: 12 Pa
absolute accuracy: 100 Pa

Height range: from 0 to 9.2 km (30,000 ft)

relative accuracy: 1 m (3.3 feet) above sea level, 2 m (6.6 ft) at 9.2 km

Interface: I2C

Sensor AS3935:

detection range: up to 40 km in 15 steps

The detection of lightning: cloud - ground, and between clouds

Interface: I2C and SPI

Dimensions: 135 x 84 x 40 mm

Weight: 215 g