Attention!
The product has been discontinued. Check other products in category.
Product description: Weather station with solar panel - Self assembly kit - DFRobot KIT0094.
A set consisting of elements forself-assembly ofthe weather station. The device is powered bya Li-Pol 3.7 V battery (included), which can be recharged through asolarpanel. The station allows to measuretemperature, humidityandpressure, the measurement results are displayed on an alphanumeric screen.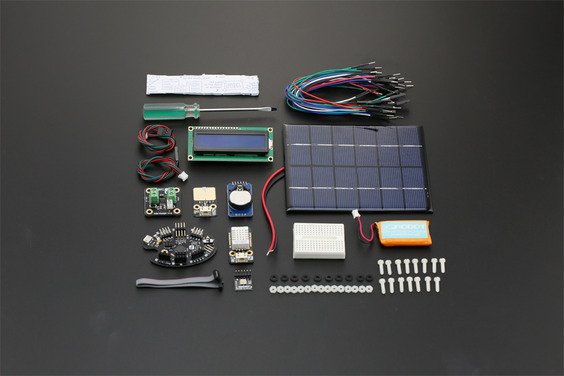 A set of elements of the weather station.
The set to build a weather station will be a greattool to learn about nature and physicsfor the youngest. The weather station can be used both indoors and outdoors.
Weather station set specification
The tension of work: 5 V (battery included)
Dimensions: 190 x 140 x 100 mm
Weight: 640 g
The set includes
1x controller Paletter Board
1x mini contact plate
1x LCD1602 module
1x touch button module, capacitive
1x solar powered Li-Pol charger module
1x DHT22 temperature and humidity sensor
1x pressure sensor BMP280
1x RTC module (DS323)
1x wooden housing
15x female/male connection cable
10x female to female connection cable
1x aluminium foil
1x Blu Tack
1x set of screws
1x screwdriver