Attention!
The product has been discontinued. Check other products in category.
Product description: M5Atom H-Driver DRV8876 - DC motor driver with H-bridge - with M5Atom Lite development module
Kit with basicM5Atom Litedeveloper module and an overlay DCmotor driver. Features a driver based on theDRV8876chip, usesan H-bridgeandN-channelto control themotor. It allows simultaneous control of one DC brush motor in two directions. The motor connected to the overlay requires an external power source of9 V to 24 V. The overlay also allows the M5Atom Lite main module to be powered using an external motor power source, thanks to the built-in DC-DCregulator. Also included isa 4-pin screw connector, aUSB Type Ccable to connect the module with a computer, and mounting hardware: a screw and Allen wrench.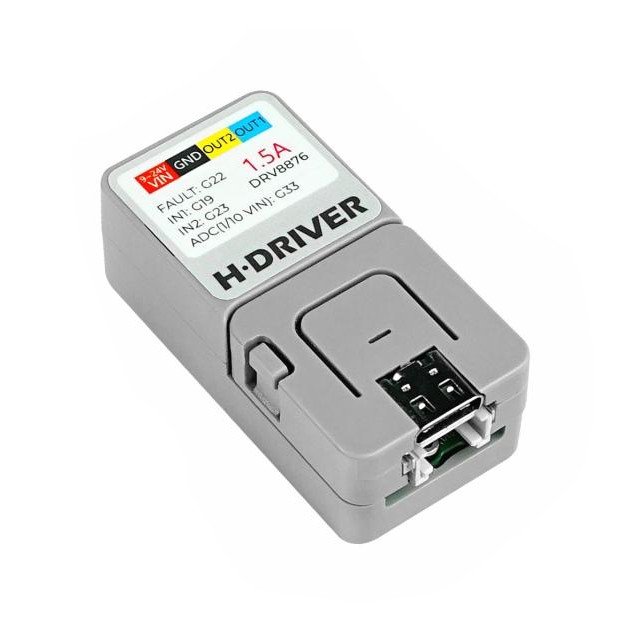 DC motor driver with H-bridge as an overlay for the M5Atom Lite development module.
Key features of the kit
M5Atom Lite compatible module
Built-in DC-DC voltage regulator
Maximum current capacity of 2 A
Built-in USB Type C connector for connecting components to a computer
Ability to control a motor in two directions
High class protections
Technical specification of H-Driver
Type: DC motor driver
Compatible with M5Atom Lite (included)
Supply voltage: 3,3 V
Supported voltage range: from 9 V to 24 V DC
Current consumption:

output: 1.5 A
peak, at maximum load: 2 A

Spread spectrum clocking for low electromagnetic interference (EMI)
Protections:

undervoltage protection (UVLO)
overcurrent protection (OCP)
Output inhibit and auto-restart (IMODE)
thermal cut-out (TSD)

Dimensions: 24 x 48 x 18 mm
Weight: 36 g
Set contents
M5Atom Lite developer module
H-Driver overlay
4-pin screw connector
Mounting screw M2 x 8 mm
USB type C cable - length 20 cm
Allen wrench