Attention!
The product has been discontinued. Check other products in category.
Product description: Uni-T A10T Temperature and Humidity Meter
Digitalmeterallows you to easily determine the temperature and humidity of the air in its environment. The device is designed for indoor use. Measurements made by the meter are displayed on a large, clear4.5 inchLCD display. The temperature measurement range is-10°Cto50°C(14°Fto122°F). Humidity measurements range from10%to99%RH. The meter's sampling time is onemeasurement every 10 seconds. The meter is equipped withMAXandMINfunctions, allowing for storing the highest and lowest readings of the device. Another advantage is the ability to set an alarm at a particular time and a clock function presenting the time in12-and24-hourformat. The meter also has a comfort indicator indicating the prevailing conditions in one of three states (Wet / Dry / Comfort). The device is powered by a singleAAA battery.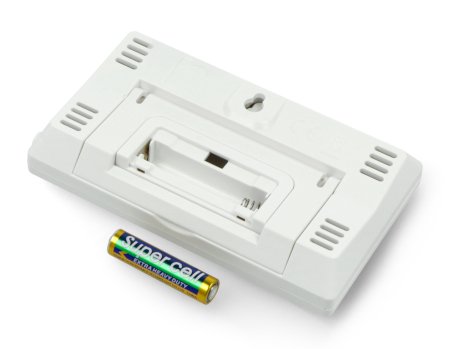 The device is powered by a singleAAAbattery. Suitable battery is included in the set.
Various ways of mounting
The device comes with a specialstand, which makes it possible to place it on a desk. Another way of mountingA10Tis on the wall using the mounting hole at the back of the device. The housing of the device is made ofwhiteplastic so that it will fit into practicallyanyinterior design.
Technical specification
| Parameter | Range |
| --- | --- |
| Temperature measurement range | from -10°C to 50°C / 14°F to 122°F |
| Resolution of temperature measurement | 0.1°C / 0.1°F |
| Accuracy of temperature measurement | Approx. 1°C / Approx. 1.8°F |
| Range of humidity measurement | From 10% RH to 99% RH |
| Resolution of humidity measurement | 1% RH |
| Accuracy of humidity measurement | about 5% RH |
| Sampling time of the meter | one measurement every 10 seconds |
| Clock function with alarm | yes |
| Time display format | 12 and 24 hours |
| LCD display | 4,5" |
| Power supply | 1 x AAA battery (included) |
| Dimensions | 130 mm x 22 mm x 78 mm |
| Weight | 110 g |