Attention!
The product has been discontinued. Check other products in category.
Product description: Qwiic Air Quality Sensor - SGP40 - air quality sensor - SparkFun SPX-17729
SparkFun's SparkX series module, based on theSGP40chip, which allows you to measure the air quality in a room. Sensirion's metal oxide (MOx)sensor, features a temperature-controlled microplate and measures humidity-compensated air quality based onvolatile organic compounds (VOCs). The module communicates via theI2Cinterface and is equipped with twoQwiicconnectors, which greatly facilitate its connection with the main module, equipped with the same connector. The manufacturer has prepared anArduinolibrary withVOC algorithm, which automatically adapts to the environment in which the sensor is located and converts the raw signal to VOC index. The sensor and the VOC algorithm are characterized by high resistance to polluting gases.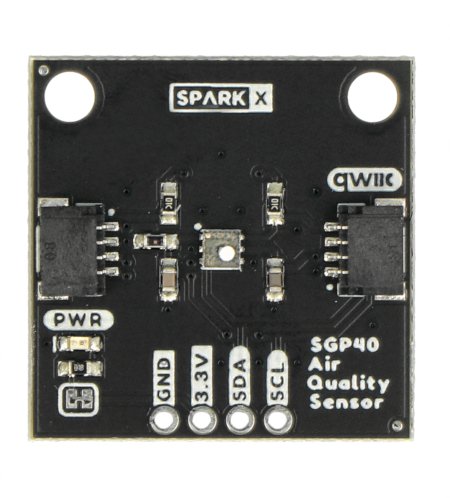 Air quality sensor SGP40.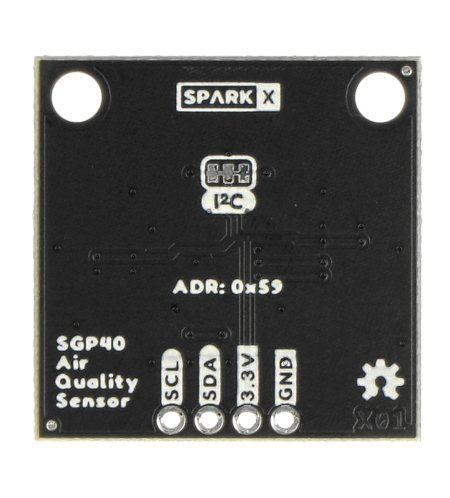 Air quality sensor.
SparkFun Qwiic connection system
SparkFun Qwiic is a low-error systemfor simple and fast connection ofsensors, actuators, overlays and I2C cables. Modules equipped with Qwiic connector have4-pinJSTconnectorwith1 mmpitch. Thanks to this solution, the connector does not take much space on the board and prevents from reverse connection of the plug, minimizing the risk of error when connecting the wires.
Specification of air quality sensor SGP40
Supply voltage: 1.7 V to 3.6 V (typically 3.3 V)
Qwiic interface voltage: 3.3 V
Interface: I2C
I2C address: 0x59
Connectors: 2x Qwiic
Output signal:

SRAW: 0 to 65535
VOC index: 0 to 500 VOC points

VOC event detection time: up to 60 s
Recommended sampling interval:

VOC index: 1 s
SRAW: 0.5 s to 10 s

Typical current consumption:

2.6 mA during continuous operation
3 µA during standby