Attention!
The product has been discontinued. Check other products in category.
Description: DFRobot 75:1 220 rpm /0.07Nm motor with connector and wires
DFRobot's miniature 75:1 gearmotor has 220 rpm, torque is0.8 kg*cm(0.07 Nm). The motor has a connector attached for easy connection. The motor also comes with the necessary connecting cables:a double PH-2.0 anda singlePH-2.0 with freecables.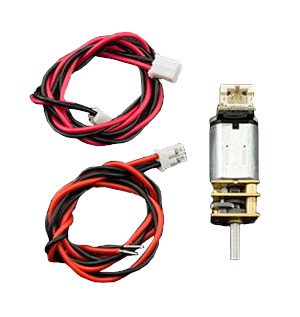 Motor dimensions
The motor body is a cuboid with dimensions of 35 x10 x 12 mm.The gearbox is9,27 mmlong. There is a3 mmD-shaped shaft at the output. Total weight is about15 g. The manufacturer also provides detailedenginedimensions.
Specification
Specification

Power supply voltage:

1 V - 6 V

Unloaded current (6 V):

70 mA

Current at stopped shaft (6 V):

1000 mA

Speed without load (6 V):

220 rpm

Torque (6 V):

0.8 kg*cm (0.07 Nm)

Gear ratio:

75:1

Shaft diameter:

3 mm

Body dimensions:

35 x 10 x 12 mm

The weight:

15 g

Two-sided shaft:

NO