Attention!
The product has been discontinued. Check other products in category.
Description of Adafruit FeatherWing Latching Mini Relay - relay 250V/0.6 A - Shield for Feather
Module from the Featherfamily equipped with a latching relay. It allows you to control actuators via the microcontroller. Feather is designed for portable projects. The maximum current is 2 A, and maximum voltage is 250 V AC. Power of the controlled devices is up to 60 V.
Latching Relay 
The module has a built-inlatching relay. To manage it, you need two pins: SET and UNSET. Changing the state of the relay is carried through indicating the 10 MS pulse on the appropriate pin. Thus, it saves energy. After power loss, the relay remains in last remembered state.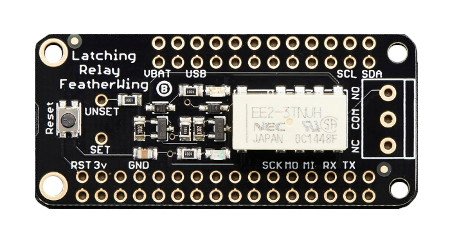 Specification: Adafruit FeatherWing Latching Mini Relay
Latching relay

 for Feather modules 
Parameters of the managed elements:

Up to 2 A for 30 V DC or 40 V AC
Up to 0.3 A for 100 V DC
Up to 0.5 A for 120 VAC
Up to 0.6 A for 250 V AC

The reset button
Included is the goldpin strip and screw connection
Dimensions: 51 x 23 x 11 mm
Weight: 5.3 g