Attention!
The product has been discontinued. Check others products incategory.
Description
The module for reading the data from RFID devices using UHF non-contact technology. It works via UART interface within a radius of up to 50 cm.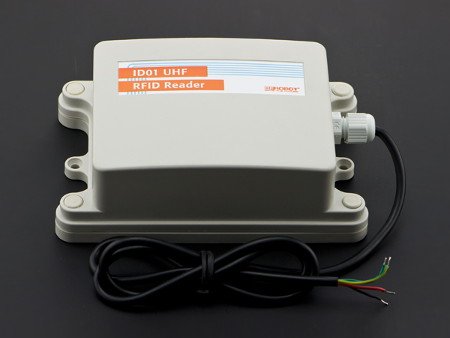 The product is compatible with Arduino
The manufacturer provides sampleprogram codefor the Arduino.
Specification
Interface: UART
Maximum output current: 200 mA
Maximum output power: 24 dBm
Range: up to 50 cm
Sensitivity: -102 dBm, at least -98 dBm
The transmission speed of the signal:

9600 b/s
19200 bits/sec
38400 b/s
57600 b/s
115200 b/s

Support for the ISO18000-6C protocol(EPC G2)
Response time:

Reading: up to 10 ms per 8 bytes
Entry: up to 20 ms per 1 byte

Operating temperature: -20°C to 65°C
Included
Main unit
3 x RFID card
3 x RFID-tag