Attention!
The product has been discontinued. Check other products in category.
Description: Inveo - MODBUS RFID reader - Unique 125kHz with relay
Inveo module allows you to read data from RFID devices in standard Unique 125 kHz. Reader is additionally equipped with relay 250 V / 5 A. Communication is performed through RS485 and USB ports. Supply voltage of the module is from 10 V to 24 V.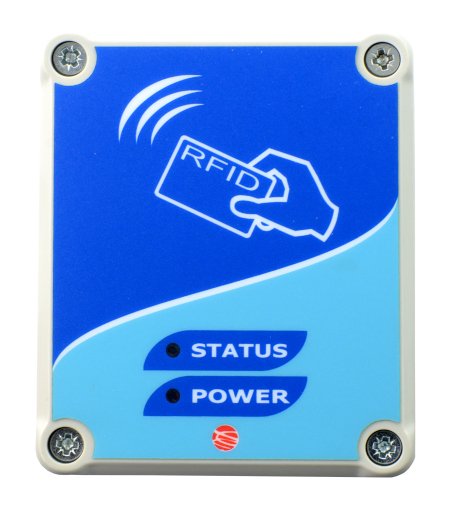 The relay can work in one of the modes:
Static: the controller turns the relay on and off
Toggle: the relay cyclically switches on and off according to the set times
1-pulse: the controller switches the relay on for a set time
The manufacturer provides detailed instruction on how to use MODBUS RFID reader.
Specification of MODBUS RFID reader
Power supply; from 10 V to 24 V
Power supply current: 15 mA
Standard: Unique
Frequency: 125 kHz
Reading range: 10 cm
Communication:

RS485 port (screw connectors)
USB type B port
Relay output (screw connector)

Dimensions: 89 x 74 x 41 mm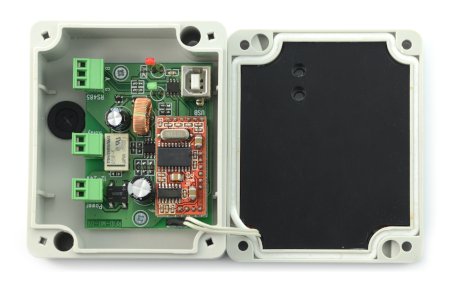 The enclosure does not have any connectors. The only output is a conduit at the bottom of the case.
Inveo - MODBUS RFID reader - Unique 125 kHz with relay
The presented product is an industrial RFID reader, with rugged design, which allows safe operation even in harsh environments. In addition, the device is characterized by increased resistance to contamination, including dust and water, in accordance with the protection class IP65.
The maximum power consumption is only 1 watt and the reading can be performed up to 8 cm from the LED. Such solution guarantees reliable reading and reduces the risk of mistake practically to zero.
MODBUS RFID reader - additional information
This device is ideal for use in warehouses, factories and wholesalers. It allows to control working time and grant access.
Its compact size, combined with easy installation, makes MODBUS RFID reader - Unique 125 kHz with relay a versatile solution.