Product description: motherboard for Creality Ender-5 Plus 3D printer - Creality V2.2 silent
Original motherboard for Creality Ender-5 Plus 3D printer, manufactured by the printer manufacturer. V2.2 model is equipped with high quality stepper motor drivers, thanks to which the device runs much smoother and quieter. Each of the drivers has an efficient passive cooling system in the form of heat sinks. The printer driver is powered by 24V.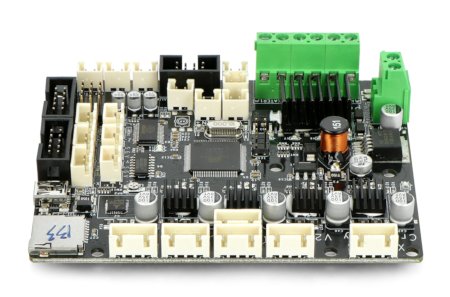 Motherboard with silent stepper motor drivers for Creality Ender-5 Plus.
Creality Ender-5 Plus 3D Printer
Creality Ender-5 Plus is a device that allows to create 3D models with large dimensions up to 350 x 350 x 400 mm. The device is equipped with a sensor for lack of filament, which allows to avoid damage to the model as a result of the sudden end of the filament or its breakage, or tangled spool. The auto-leveling function based on BL Touch, precisely measures the inclination of the printing platform surface and automatically compensates for its unevenness in relation to the Z axis. A 3D printer equipped with this Creality V2.2 motherboard runs much quieter and more precisely.
Motherboard specifications
Compatible with 3D printers: Ender-5 Plus, CR-10 S4, CR-10 S5, CR-20 Pro (SV01), CR-X, XR-XB, CR-10S, CR-20
Firmware preloaded: Ender-5 Plus
Original component from 3D printer manufacturer Creality
Rated voltage (supply): 24 V
Maximum current: 20 A
Rated voltage: Input 115 V / 230 V
Maximum power: 270 W
Element dimensions: 85 x 105 x 20 mm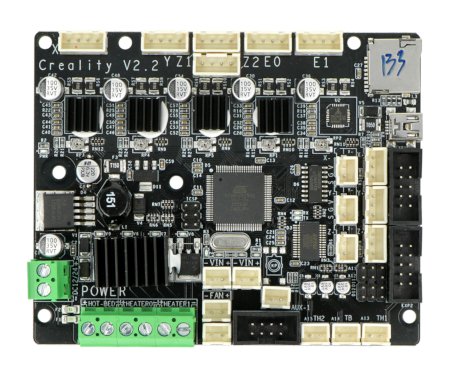 Creality V2.2 motherboard for Ender-5 Plus.