‌
Product description: 3D scanner - Revopoint Range - standard package
A Revopoint device designed for three-dimensional scanning of objects. The Range scanner can scan objects at a distance of up to 800 mm while maintaining an impressive precision of up to 0.1 mm. This makes the device an ideal tool for capturing the surface of even very large objects , such as cars, furniture or industrial parts. The built-in RGB camera allows you to recreate the object even more precisely and create almost realistic 3D models. The standard package includes a scanner, tripod, phone holder, USB A - USB C adapter, USB A - microUSB cable , USB C - microUSB cable, 2in1 cable, markers, mounting glue, and a handle with a built-in PowerBank that powers the scanner during operation in manual mode.
A human body scan made using a Range scanner and a rotating platform.
Awaken your imagination
How you use the Range scanner is up to you! The device has a very wide range of applications , you can use it to create 3D models for artistic projects, animations or for utility purposes, scanning cars, furniture, parts and other everyday objects. The wide capture range also allows you to scan the entire human body in about two minutes. The rotating platform, which you can purchase in the premium package , will make this process much easier. Designing video games, clothes, AR and VR applications has never been so easy!
Wide scanning area
The Range scanner's efficient infrared light source allows it to capture objects at distances from 300 mm up to 800 mm . Thanks to this, scanning even very large objects will not be a problem at all. You can quickly and conveniently scan cars, furniture or large industrial parts. A single scanning area at a distance of 600 mm has dimensions of 360 x 650 mm.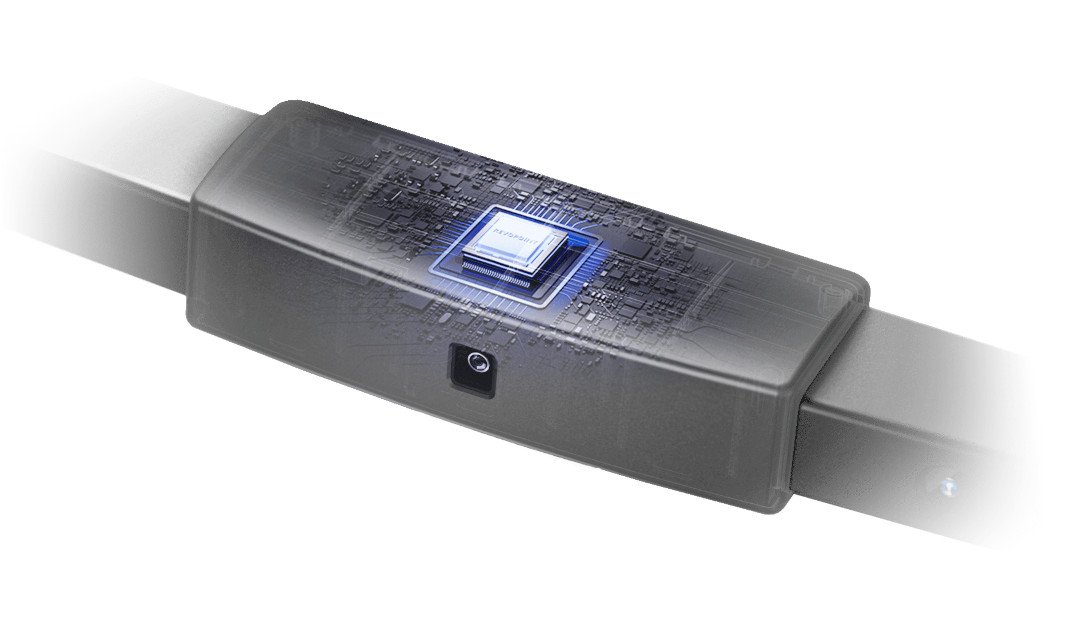 The Range is built with high-quality components, thanks to which it can create extremely precise scans.
Fast 3D scanner
Range can operate at up to 18 frames per second , making the scanning process quick and pleasant. Advanced scanner algorithms developed independently by Revopoint allow it to smoothly capture objects and significantly increase the efficiency of the device. This makes scanning almost as easy as recording video.
High accuracy
The device scans objects with an accuracy of 0.1 mm . Precise lenses reduce any curvatures and deformations of the image and ensure that microstructured infrared light reaches the object's surface evenly.
Bring out the most beautiful things from the scanned object thanks to the built-in RGB camera!
Color 3D scans
The Range scanner is equipped with an integrated RGB camera, which allows objects to be scanned with authentic texture and colors . Thanks to this, it is possible to obtain a fully reproduced 3D model.
Various operating modes
The included tripod can be used as a handle during manual scanning, and after unfolding the legs it allows you to work in rotation mode. Manual scanning can be even more convenient thanks to the included holder with a built-in PowerBank . When working in manual mode, the handle guarantees up to two hours of continuous power supply.
Adjust the scanner's operating mode to your needs.
TECHNICAL SPECIFICATIONS OF THE REVOPOINT RANGE 3D SCANNER
Single Scan Accuracy:
0.1mm
Resolution:
0.3mm
Working distance:
from 300mm to 800mm
Single scan range:
360x650mm at 600mm
Minimum scan dimensions:
50x50x50mm
Scan speed:
up to 18 fps
Source of light:
Class 1 infrared light
Calibration:
feature/marker
Color scanning:
Yes
Outdoor Scanning:
Yes
Communication interface:
WiFi, USB 3.0
Compatible OS:
Android, iOS, Windows 8/10/11 (64-bit), macOS (Windows 7 is not supported)
Output Format:
.ply, .obj, .stl
Dimensions:
295 x 41.5 x 28.2 mm
Mass:
210 g