Product description: AGM 6 V 12 Ah Green Cell battery
Green CellAGM batterytype. It is made of high quality materials, thanks to its construction it is leak-free, whichallows to work in many positions. Such an effect is achieved thanks to the fact that the electrolyte is absorbed by the separator made of glass fibre, which does not allow its leakage. The battery is adapted tocyclic and bufferoperation.It is perfectly suited to work inUPSsystems.Rechargeablebattery.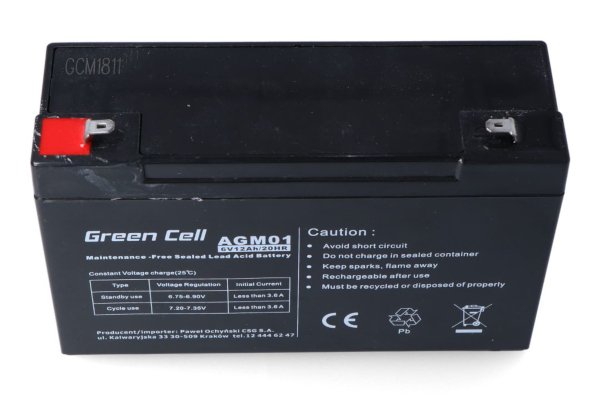 Battery AGM 6V 12Ah Green Cell.
AGM battery specification
Capacity: 12 Ah
Tension: 6 V
Capacity depending on temperature:

40°C - 102%
25°C - 100%
0°C - 85%
-15°C - 65%

Lifetime: 5 years
Self-unloading: 2% per month at 25°C
Internal resistance: ≤10 mΩ

at 25

°C

Dimensions: 151 x 50 x 94 (98) mm

Weight: 1,84 kg