Product description: Li-Pol pack Redox 1100 mAh 30C 2S 7.4 V
Redox brand lithium polymer battery pack with 1100 mAh capacity, consists of two cells. The output voltage is 7.4 V, and the constant discharge current is 30 C (33 A). The outputs of the battery are wires terminated with JR connector and output to the balancer. Li-Pol batteries are used in modeling and robotics.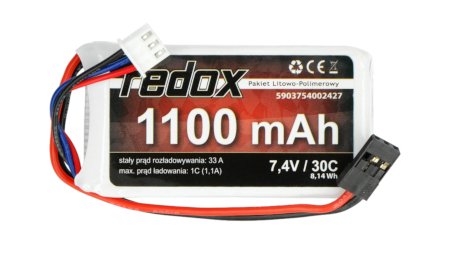 The Li-Pol Redox 1100 mAh pack has a JR connector.
Redox battery specification
Battery type: lithium-polymer
Connectors: JR socket (3-pin) and output to the balancer
DEAN cable length: 10 cm
Maximum charging current: 1C (1.1 A)
Voltage: 7,4 V
Capacity: 1100 mAh
Constant discharge current: 33 A (30C)
Battery dimensions: 65 x 35 x 10 mm
Weight: 49 g
We also offer chargers matched to the pack connectors.
Proper charging of Li-Pol batteries
When using Li-Pol pack s you should pay special attention to proper charging of cells. It is important to maintain balanced cells, i.e. even charging (to the same voltage level) of each cell in relation to the others. There are many chargers for Li-Pol packs, both simple compact and advanced microprocessor based chargers are available.
An important issue is also the storage of packs. If the cells will not be used for a long time, it is a good idea to put them into the Storage level (microprocessor chargers have a program that will automatically put the packs into this state). This mode will charge or discharge the pack to the level of 3.7 V per cell - which is the best voltage in the context of Li-Pol pack performance, as well as its life.