Description of Bluno Beetle - Shield for Bluno Beetle module
Board allows you to led the analog and digital pins of the module Bluno beetle on the standard compatible with DFRobot IO Expansion Shield. Supply voltage ranging from 5 V to 8 V. In addition, the board has a built-in switch.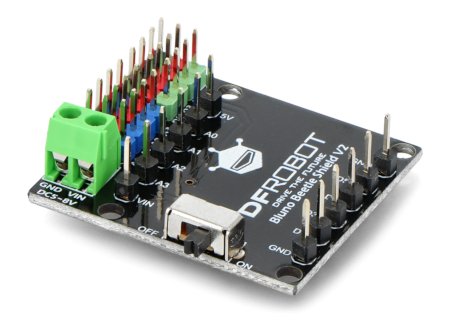 ModuleBluno Beetlemust be soldered to the respective connectors.
Specification: Bluno Beetle - Shield for Bluno Beetle module
Power supply: from 5 V to 8 V
4 digital pins: D2 to D5
4 analog pins: from A0 to A3
4 x  3 mm mounting holes
Built-in switch
Dimensions: 38 x 36 mm