Description
OpenMV Cam is a small, microcontroller board which allows you to easily deploy applications using the mechanical view camera. It uses the STM32F765VI ARM Cortex M7 chip. It supports three image formats, the maximum resolution is 640x480 pixels, it displays up to 120 frames per second. You can easily take pictures and videos outdoors or use the computer vision algorithm to understand how to control the I/O pins. Board is programmable in Python language.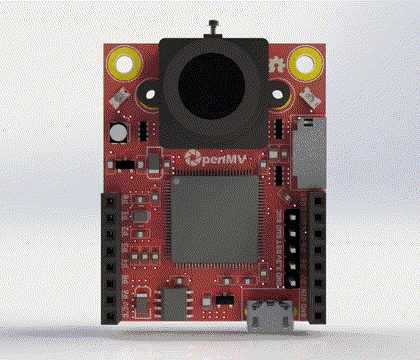 Key features
Full speed of USB interface (12 MBS). After attaching to the computer, the camera will appear as a new virtual device on COM port and data carrier.
MicroSD card slot allows to read and write at speeds of up to 100 MBPS what allows you to record video to the card.
The SPI bus can run at a speed of 54 MBPS, which allows you to transfer images from the board to the LCD display, wi-fi shield or other microcontroller.
I2C bus, CAN bus and asynchronous serial bus allows for the communication with other microcontrollers and sensors.
12-bit ADC and 12-bit DAC.
3x I/O for servo control.
Interrupts and PWM on each I/O pin (on board are 10 I/O pins).
RGB LED and two IR LEDs with the high power of 850 nm.
The kit includes 2x goldpin strap.
Application
Tracking color
Face recognition
Eye tracking
Tracking tags
Optical motion
Detection / decoding QR code
Decoding barcodes
Detection of line
Detection of circles
The detection of rectangles
Image capture
Video recording
Specification
Specification
Processor

ARM® 32-bit Cortex®-M7 PROCESSOR

RAM
512 KB
Flash
2 MB
Image formats supported
The maximum resolution supported

Grayscale: 640x480 and below

Grayscale JPEG: 640x480

and below

RGB565 JPEG: 640x480

and below

Lens

Focal length: 2.8 mm

Aperture: F2.0

HFOV: 70,8°
VFOV: 55,6°

Mount: M12 * 0.5 

IR filter: 650 nm (removable)

Electric information

All pins have tolerance of 5 Volts with a 3.3 V output

All the pins can load up to 25 mA

P6 has not a tolerance of 5 V in the mode ADC or DAC

Between pins, can be flow of up to 120 mA

VIN may have a voltage from 3.6 to 5 V

Do not consume more than 250 mA from the 3.3 V bus

Dimensions
45 x 36 x 30 mm
Weight
16 g