Product description: Plastic housing Kradex Z71U IP54 - 76 x 59 x 18 mm black with ears
Two-part Housing for electronic circuits in black. The overall external dimensions are 76.45 x 59.4 x 18.15 mm and it is made of plastic. The included mounting screws are used to assemble the enclosure.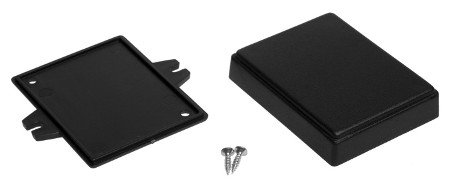 Black housing Kradex Z71U.
Specification
Colour: black
Material: ABS
Upper and lower part connected by two screws (included)
External dimensions: 76 x 59 x 18 mm
Protection class: IP54