Product description: Voltcraft measuring adapter DLA-1L 16
An adapter that allows you to safely measureAC current and AC voltage. The Voltcraft DLA-1L 16 is mounted between a power outlet and a current receiver. On one side it has a socket protected by a cover, on the other side there is a CEE 7/4 earthed plug. Measurement can be performed using PE, N, L sockets located in the shoe or special L and PEmeasuring chambersadjusted to clamp meters. To measure current values it is necessary to use a separatemeter. The Voltcraft DLA-1L 16 housing is made of high quality materials ensuring high durability of the product.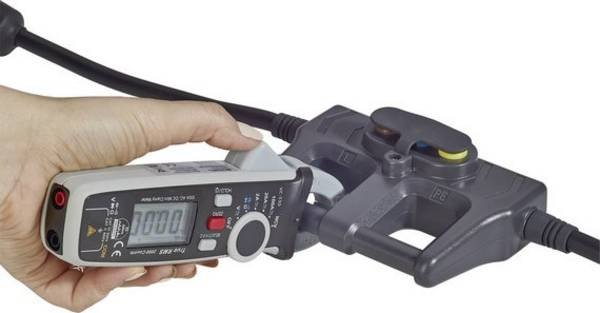 Measurement using an adapter.Meterto bepurchased separately.
Voltcraft DLA-1L 16 measurement adapter specifications
Nominal voltage: 250 V AC
Rated current: up to 16 A
Protection class: IP40
Working temperature: from 0°C to 40°C
Storage temperature: from 0°C to 40°C
Operation humidity: 0% to 75% RH
Storage humidity: 0% to 75% RH
Measuring category: CAT III 250
Measuring sockets: 4 mm
Width of measuring chambers: 30 mm
Total length of the adapter: approx. 75 cm
Weight: 430 g
Contents of set
Voltcraft DLA-1L 16 measuring adapter
User manual