Product description: Qwiic Boost - SparkFun SPX-17238
Another module in the SparkX series of experimental products. The Qwiic Boost increases the voltage of3.3 V to 5 V,allowing you to use devices that work with this voltage and the I2C bus. There are twoQwiicconnectors on the board and pinouts forI2Ccommunication. The module has an output voltage of 5 V, the maximum current is 100 mA with 90% efficiency. The output voltage is jumper selectable: 3.3 V or 5 V.
SparkFun Qwiic connection system
TheSparkFun Qwiicsystem is an ecosystem ofsensors, actuators, overlays and I2C cables for simple and fast, low-error connectivity. Modules equipped with the Qwiic connector feature a4-pinJSTconnectorwith a1 mmraster. Thanks to this solution, the connector doesn't take up much space on the board and makes it impossible to connect the plug in the reverse way, minimizing the risk of error when connecting the wires.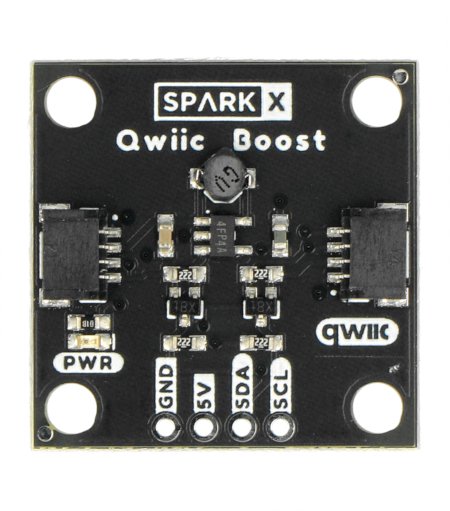 SparkFun Qwiic Boost.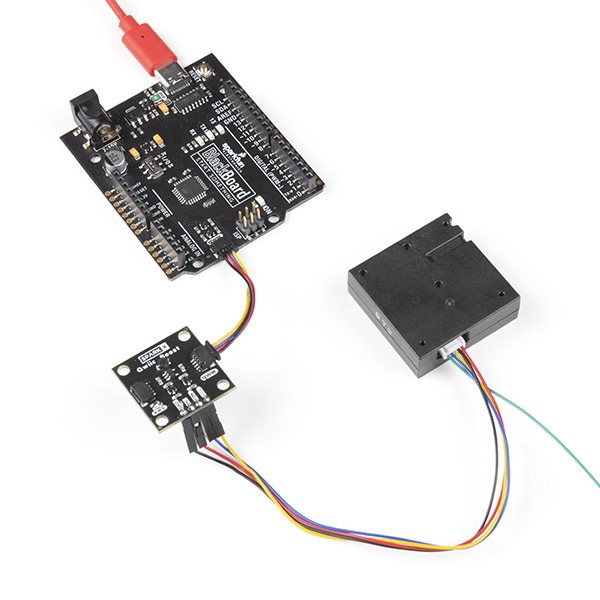 Example of Qwiic Boost module connection.
Qwiic Boost module terminals
Qwiic Boost module is equipped with twoQwiicconnectors,which are used forI2Ccommunication. The board also has four holes for goldpin soldering. Holes as I2C interface pins:
GND- chip ground
5 V- supply voltage 5 V
SDA- I2C bus data line
SCL- I2C bus clock line
Qwiic Boost specification
Connector: Qwiic
Output voltage: 3.3 V or 5 V
Output current: 100 mA